| | |
| --- | --- |
| Press Release | |
| (Exclusively for the use of the media. Not an official document) |   |
The Hague, 23 July 2009
NJ/MOW/PR1328e

Appeals Chamber Reverses Haraqija's, Confirms Morina's Conviction for Contempt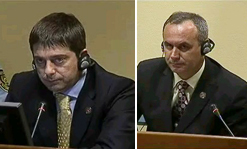 Astrit Haraqija and Bajrush Morina

The Appeals Chamber today reversed Astrit Haraqija's conviction and affirmed Bajrush Morina's conviction and sentence for contempt of the Tribunal for intimidating a protected witness in the trial of the former Kosovo Albanian military leader Ramush Haradinaj and others.
On 17 December 2008, Trial Chamber I found both Haraqija and Morina, ethnic Albanians from Kosovo, guilty of having knowingly and willfully interfered with the administration of justice by interfering with a protected witness in the Haradinaj et al. case.
Haraqija, former Kosovo Minister for Culture, Youth and Sport was sentenced to five months of imprisonment. Morina, former political adviser to Kosovo's Deputy Minister in the Ministry of Culture, Youth and Sports, was sentenced to three months of imprisonment.
Both Haraqija and Morina appealed the decision calling for acquittal while the Prosecution asked for their sentences to be increased.
The Appeals Chamber accepted Haraqija's second ground of appeal challenging the sufficiency of the evidence underpinning his conviction. It found that the Trial Chamber gave too much weight to untested evidence, most of it based on "double or even triple hearsay", when it concluded that Haraqija had influence over Morina and instructed him to commit the crime of contempt. 
"Although the Trial Chamber reasonably concluded that Morina's personal situation as well as the content of his conversation with Witness 2 suggested that he was pressured, it does not necessarily follow that this pressure came from Haraqija," reads the Appeal Judgement.
The Appeals Chamber dismissed all of Morina and the Prosecution's grounds of appeal.
Both Haraqija and Morina had been on provisional release since 9 February and 8 April respectively having served the duration of their sentences imposed by the Trial Chamber.
On 3 April 2008, Trial Chamber I acquitted Ramush Haradinaj and Idriz Balaj of all charges which alleged they were responsible for war crimes and crimes against humanity committed in Kosovo between March and September 1998. The third accused, Lahi Brahimaj was sentenced to six years' imprisonment for cruel treatment and torture of two persons at the Jablanica/Jabllanicë headquarters of the Kosovo Liberation Army (KLA).


*****
The full text of the summary of the judgment can be found on the Tribunal's website:
http://www.icty.org/x/cases/contempt_haraqija_morina/acjug/en/090723_judgement.pdf

*****
International Criminal Tribunal for the former Yugoslavia
For more information, please contact our Media Office in The Hague
Tel.: +31-70-512-5343; 512-5356 Fax: +31-70-512-5355 - Email: press [at] icty.org