| | |
| --- | --- |
| Press Release | |
| (Exclusively for the use of the media. Not an official document) |   |
The Hague, 9 February 2009
VE/MOW/1302e

Bajrush Morina Granted Provisional Release Pending Appeal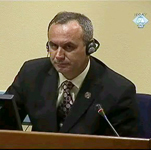 Bajrush Morina
The Tribunal's Appeals Chamber today ordered the provisional release of Bajrush Morina from the Tribunal's Detention Unit. Morina's release, to take place at the earliest practical moment, was ordered as he completed the three-month sentence imposed for contempt of court.
Morina was convicted and sentenced on 17 December 2008 of trying to persuade a Prosecution witness not to testify in the trial of former Kosovo Albanian military leader Ramush Haradinaj. Morina's co-accused, Astrit Haraqija, former Minister for Culture, Youth and Sport, was sentenced on the same day to five months' imprisonment. Morina was a former political advisor to the Deputy Minister for Culture, Youth and Sport of Kosovo and part-time editor of the Kosovo newspaper "Bota Sot".
Both the Prosecution and the Defence have appealed the judgement. The Appeals judgement is pending. Morina's release is provisional pending the Appeals judgement and is subject to a number of terms set down in today's Decision.
Morina has spent a total of three months in the Tribunal's Detention Unit. He was held there from 28 April – 15 May 2008 at the time of his initial appearance in court, from 3 – 18 September 2008 at the time of his trial and from 15 December 2008, the date he returned in to the Tribunal's custody for the Trial Chamber's judgement.
The Tribunal holds the safety of its witnesses and confidentiality of its protected materials in high regard. To date contempt proceedings have been initiated against around 30 persons with charges raised against defence counsel, witnesses in cases, journalists and others in relation to allegations of witness intimidations, the refusal to answer questions in court, leaking confidential court documents, and breaching protective measures.
*****
The Appeals Chamber decision can be found at:
http://www.icty.org/x/cases/contempt_haraqija_morina/acdec/en/090209.pdf
The Trial Chamber judgement can be found at:
http://www.icty.org/x/cases/contempt_haraqija_morina/tjug/en/081217judg_en.pdf
An information sheet about the case can be found at:
http://www.icty.org/x/cases/contempt_haraqija_morina/cis/en/cis_haraqija_morina_en.pdf
Courtroom proceedings can be followed on the Tribunal's website at www.icty.org


*****
International Criminal Tribunal for the former Yugoslavia
For more information, please contact our Media Office in The Hague
Tel.: +31-70-512-5343; 512-5356 Fax: +31-70-512-5355 - Email: press [at] icty.org