| | |
| --- | --- |
| Press Release | |
| (Exclusively for the use of the media. Not an official document) |   |
The Hague, 16 November 2011
JKE/MOW/PR1461e

Conference on Tribunal's Global Legacy concludes in The Hague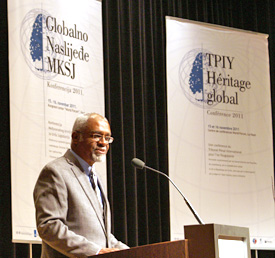 ICTY President Judge Patrick Robinson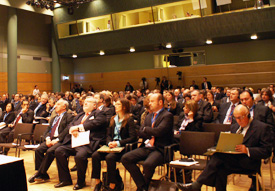 The "ICTY Global Legacy Conference" concludes today in The Hague, having brought together over 350 leading academics, international judges and practitioners, state representatives and members of civil society.
The Tribunal's President, Patrick Robinson spoke yesterday of the "rich and fertile forum for intellectually challenging and stimulating discussions about the global impact of the work of the Tribunal," that the conference would provide.
During the two-day conference, participants explored the impact of the Tribunal's work on international humanitarian law and international criminal procedure, as well as the potential of its jurisprudence to shape the future of global justice and the advancement of human rights. Dynamic panel discussions were followed by an opportunity for the audience to put questions to the panellists.
The Conference moderators and panellists were among the most eminent scholars and practitioners in the fields of international human rights, humanitarian and criminal law, and included some of the Tribunal's own esteemed Judges and former Judges, United Nations officials and government representatives.  
The Conference was made possible through the generosity of the Governments of the Netherlands, Luxembourg, Switzerland and the Republic of Korea, as well as the Municipality of The Hague and the Open Society Justice Initiative.
President Robinson also used his opening remarks to pay tribute to the Tribunal's first President, Judge Antonio Cassese, "a giant in international humanitarian law and international criminal law" who had a "tremendous influence on the foundational jurisprudence of the Tribunal." Judge Cassese passed away on 21 October 2011.
***
ICTY Global Legacy Conference Concept Paper
*****
International Criminal Tribunal for the former Yugoslavia
For more information, please contact our Media Office in The Hague
Tel.: +31-70-512-8752; 512-5343; 512-5356 Fax: +31-70-512-5355 - Email: press [at] icty.org ()
Follow ICTY on Twitter and Youtube