| | |
| --- | --- |
| Press Release | |
| (Exclusively for the use of the media. Not an official document) |   |
The Hague, 10 October 2011
JKE/MOW/PR1449e

Dragomir Pećanac charged with contempt of court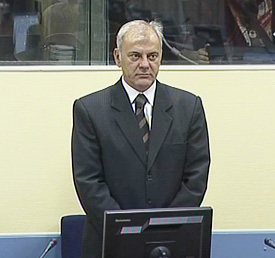 Dragomir Pećanac
Dragomir Pećanac, former Security and Intelligence Officer of the Main Staff of the Army of the Republika Srpska, has been charged with contempt of the Tribunal for failing to comply with, or to show good cause why he could not comply with, a subpoena in which he was ordered to testify in the case of Zdravko Tolimir. His initial appearance took place this morning in Courtroom I.
An order in lieu of an indictment for contempt was issued confidentially by the Trial Chamber on 21 September 2011. This set out that, having been informed on 2 September of the contents of the subpoena and of his obligation to appear before the Trial Chamber, Pećanac obstructed all attempts by the Tribunal to facilitate his safe transfer to The Hague, thereby resulting in his failure to appear before the Chamber as ordered or to show good cause why he could not comply with the subpoena.
A warrant for the arrest and order for surrender of the accused were also issued on 21 September 2011. Pursuant to this order, Pećanac was transferred to the custody of the United Nations Detention Unit.
At his initial appearance, Pećanac did not enter a plea. Under the Tribunal's Rules of Procedure and Evidence, the accused must enter a plea within ten days of an initial appearance in a contempt case. During a hearing that took place today in the trial of Zdravko Tolimir shortly after Pećanac's initial appearance, Pećanac refused to testify as a witness.

*****
International Criminal Tribunal for the former Yugoslavia
For more information, please contact our Media Office in The Hague
Tel.: +31-70-512-8752; 512-5343; 512-5356 Fax: +31-70-512-5355 - Email: press [at] icty.org ()
Follow ICTY on Twitter and Youtube