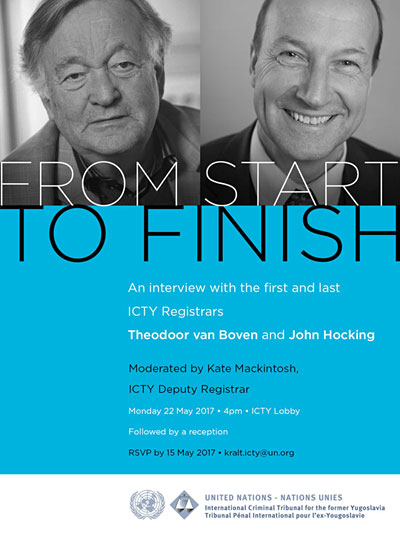 As the ICTY continues through its final year, the story of the Tribunal is told "From Start to Finish", for the first time from the perspectives of the ICTY's first Registrar, Theodoor van Boven, and its current and last Registrar, John Hocking. This public event, moderated by the ICTY Deputy Registrar, Kate Mackintosh, will take place on Monday 22 May at 4 p.m. in the lobby of the Tribunal.
In a dynamic discussion, Mr. van Boven and Mr. Hocking will talk about starting up and closing down the first United Nations international criminal tribunal and the challenges and achievements along the way. Through first-hand experiences and best practices they will highlight the Registry's work - from supporting and protecting witnesses and victims, to defending and detaining persons accused of atrocity crimes.
"From Start to Finish" is part of the ICTY Legacy Dialogues. These events help ensure that the Tribunal's contribution to accountability for international crimes endures long after its doors have closed, in particular by enabling others to build on its work and achievements.
Theodoor van Boven served as the ICTY Registrar from February to December 1994 and headed the Netherlands delegation to the United Nations Diplomatic Conference for the Establishment of an International Criminal Court in 1998.  John Hocking has been the Registrar of the ICTY since May 2009, after having served as Deputy Registrar and as Senior Legal Officer in the Appeals Chamber. He joined the ICTY as a Legal Officer on the Čelebići trial in 1997.