TRIBUNAL
PRESS RELEASE
(Exclusively for the use of the media. Not an official document)
The Hague, 30 May 2013
VE/CS/PR1566e
German President visits the Tribunal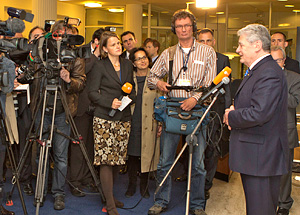 German President Joachim Gauck
The German President, Joachim Gauck, visited the Tribunal today as part of a wider visit to the international courts in The Hague.
President Gauck was greeted by the Tribunal's Vice-President, Judge Carmel Agius, Prosecutor Serge Brammertz and Registrar John Hocking, and was introduced the ICTY's Judges.
"President Gauck's visit comes at a significant moment when the Tribunal is celebrating its 20th anniversary. It is an honour to welcome such an auspicious guest who is a known champion of human rights", said Vice-President Agius.
President Gauck underlined that "international law plays an indispensable role in the endeavour to protect, strengthen and enforce human rights. International criminal law in particular symbolises the international community's pledge that those responsible for genocide, crimes against humanity and war crimes will be brought to justice".
Commenting on the visit, Registrar John Hocking said: "The FederalRepublic of Germany has always been a very strong supporter of the Tribunal, and we welcome this opportunity to introduce our work, and staff and officials to President Gauck during his visit".
The President of Germany also held a meeting with Prosecutor Serge Brammertz. During the meeting the President was informed about the remaining challenges the Office of the Prosecutor is facing in relation to the last ongoing trials with a special emphasis on the ongoing transition of war crimes prosecutions to regional judicial authorities.
President Gauck held a separate meeting with Judge Christoph Flϋgge, who briefed him on the Tribunal's ongoing cases and the ICTY's efforts to successfully complete its mandate. Judge Flϋgge emphasised the complex nature of the proceedings, noting the scope of charged crimes, the enormous volume of evidence and the challenge of obtaining witness testimony and ensuring that witnesses are protected.