(Exclusively for the use of the media. Not an official document)
T
he Hague, 14 November 2012
Gotovina and Markač Appeals Judgement – Accreditation procedure now closed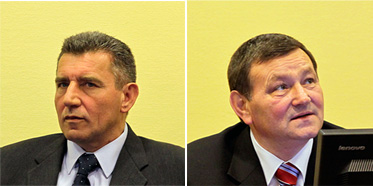 Ante Gotovina and Mladen Markač
The accreditation procedure for the members of public wishing to attend the Appeals Judgement in the case of Ante Gotovina and Mladen Markač on Friday, 16 November has now closed.
Journalists are required to pick up their accreditation ticket on on Friday, 16 November from 7:30 at the gate outside the Tribunal's main entrance.
Non-media representatives who have requested to be accredited will be informed by email of the status of their request.
****

Case information

 The Appeals Judgement will be broadcast live on the Tribunal's website

The Spokesperson for Registry and Chambers, Magdalena Spalińska,
can be reached on +31 (0)6 5127 1242 or +31(0)70 512 5066 and spalinska [at] un.org
For further information please call the Media Office at +31 (70) 512-8752 or -5343 or -5356.
*****
International Criminal Tribunal for the former Yugoslavia
For more information, please contact our Media Office in The Hague
Tel.: +31-70-512-8752; 512-5343; 512-5356 - Email: press [at] icty.org ()
Follow ICTY on Facebook, Twitter and Youtube