TRIBUNAL
PRESS RELEASE
(Exclusively for the use of the media. Not an official document)
The Hague, 30 September 2013
CS/PR1581e
Hundreds visit the Tribunal on The Hague International Day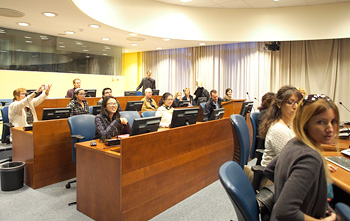 More than 550 members of the public passed through the Tribunal's doors on 29 September 2013 as part of the sixth annual 'International Day' organised by the Municipality of The Hague.
The President of the Tribunal, Judge Theodor Meron, opened the event. "It is a great pleasure that today at the ICTY, as part of The Hague International Day, we are following this same "open door" policy on a much greater scale, and inviting all of you into our court to see what we do here, to ask questions about our work, and to learn a bit about all that we have achieved over the past 20 years,"  he told the gathered audience.
Members of the public were offered the rare chance of entering one of the Tribunal's courtrooms, where they were given a guided tour by staff members. Visitors were able to sit at the judges' bench or take the places of the Prosecution or the Defence counsel while listening to presentations by ICTY staff on how the Tribunal's courtrooms operate.
A particular highlight of the day was a question and answer session where 100 visitors put their queries to the presiding judge in the Ratko Mladić trial, Alphons Orie.
In addition, an exhibition commemorating 20 years of the ICTY was displayed, as were a collection of drawings made by children from Bosnia and Herzegovina. ICTY officials were on hand throughout the day to meet visitors, to answer their questions and to present the work and achievements of the Tribunal.
The ICTY also welcomed visitors to its stand at the International Fair, held at the Worldhotel Bel Air on the same day. The Fair provided international organisations and NGOs based in The Hague with an occasion to present themselves to over a thousand visitors and to answer questions.