| | |
| --- | --- |
| Press Release | |
| (Exclusively for the use of the media. Not an official document) |   |
The Hague, 18 March 2011

VE/MOW/1397e

ICTY Conducts Joint Advocacy Training in Bosnia and Herzegovina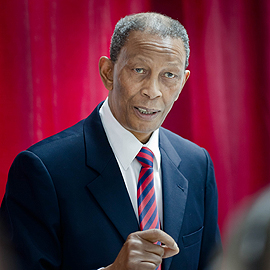 ICTY Judge Moloto during the training session

The Tribunal yesterday began a three-day advocacy training session with judges, prosecutors and defence lawyers from across Bosnia and Herzegovina (BiH), as part of the War Crimes Justice Project (WCJP).
The goal of the training is to provide judges, prosecutors and defence lawyers with the additional skills to conduct opening statements, direct and cross examinations of witnesses and closing arguments. The training is taking place in cooperation with the Centres for Judicial and Prosecutorial Training of the Federation of BiH and Republika Srpska, and also with the criminal defence section of the Sector for Judicial Bodies of the BiH Ministry of Justice (OKO).
This is the first advocacy training of the kind to be held in the region as part of the WCJP. The training is led by ICTY Judge Bakone Justice Moloto, ICTY Prosecutor Paul Rogers and Defence Counsel Vasvija Vidović from the Association of Defence Counsel practising before the ICTY.
 
"The advocacy seminar is party neutral and helps counsel to present their cases more effectively. The judges are here to observe this process. With judges, prosecutors and defense attorneys working together, we can eliminate differences in expectations and can agree on what is acceptable and what is not acceptable in the course of presenting the case. There are always two versions, one from the defense and one from the prosecutor, and they both want to persuade the judge," commented Judge Moloto.
Judges from cantonal courts in Bihać, Sarajevo, Tuzla and Zenica and district courts in Banja Luka, Doboj and Sarajevo are taking part in the training. Prosecutors from the Office of the Prosecutor of Bosnia and Herzegovina as well as those from the cantonal prosecutor's offices in Mostar and Sarajevo, the district prosecutor's office in Banja Luka and the Brčko District prosecutor's office are also attending. A number of defence lawyers from the Chamber of Advocates of Republika Srpska and the Federation of BiH are also taking part in the training.
The War Crimes Justice Project is a 4-million euro regional project funded by the European Union and carried out by the Organization for Security and Co-operation in Europe's Office for Democratic Institutions and Human Rights (OSCE/ODHIR) in partnership with the ICTY, the UN Interregional Crime and Justice Research Institute and OSCE field operations.

* * *
For more information please call Ms. Sanela Tunović, War Crimes Justice Project
Outreach Officer at ++387 61 539 535 or email at wcjp [at] odihr.pl ()

A video on the War Crimes Justice Project can be viewed at:
http://www.youtube.com/watch?v=86yVbaBrOOA


War Crimes Justice Project Partners



This project is funded by
the European Union

Implemented by

:
        
*****

International Criminal Tribunal for the former Yugoslavia
For more information, please contact our Media Office in The Hague
Tel.: +31-70-512-8752; 512-5343; 512-5356 Fax: +31-70-512-5355 - Email: press [at] icty.org ()
Follow ICTY on Twitter and Youtube