| | |
| --- | --- |
| Press Release | |
| (Exclusively for the use of the media. Not an official document) |   |
The Hague, 13 May 2011
NJ/MOW/1407e

ICTY Conducts Training Session of Croatian Legal Professionals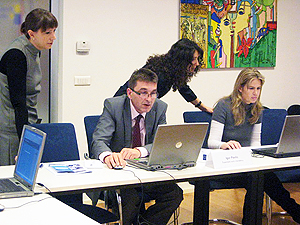 During a previous training in Zagreb, Croatia

The International Criminal Tribunal for the former Yugoslavia today concluded a two-day training session for judges, legal advisors and deputy prosecutors from the county courts and state attorney's offices of Split, Zadar, Šibenik and Dubrovnik, as part of the War Crimes Justice Project (WCJP).
The goal of the training, which took place at the Judicial Academy in Split, Croatia, was to share the Tribunal's institutional knowledge and specialised skills with jurisdictions in the region as a means of enhancing their capacity to handle complex war crimes cases.
The training will strengthen the ability of the Tribunal's local counterparts to locate and research ICTY information and materials relevant to their work. The training session covered the use of electronic search tools such as the website, the ICTY Court Records Database and the Appeals Chambers Case Law Research Tool. It also covered making requests to the ICTY for legal assistance and for variation of protective measures under the Tribunal's Rules of Procedure and Evidence.
Commenting on the training session, Christopher Engels, the WCJP Regional Coordinator, said: "These trainings provide an invaluable opportunity for our partners at the ICTY to share their knowledge and experience with their colleagues in the region. Those working on war crimes cases in the region face many challenges which, coupled with the complex nature of war crimes cases, make their work extremely difficult. Through these trainings, we are able to support legal professionals across the region in their continued efforts to process war crimes cases fairly and efficiently."
This is the first training session of legal professionals to be held in Split as part of the project. Similar training has taken place in Zagreb, Osijek, Belgrade, Banja Luka, Sarajevo and Podgorica since the launch of the WCJP in July 2010.  Further training sessions are scheduled to be held in the region in the coming months. 
The War Crimes Justice Project is a 4-million euro regional project funded by the European Union and carried out by the Organization for Security and Co-operation in Europe/Office for Democratic Institutions and Human Rights (OSCE/ODIHR) in partnership with the ICTY, the UN Interregional Crime and Justice Research Institute and OSCE field operations.

* * *
For more information please call Ms. Sanela Tunović, War Crimes Justice Project Outreach Officer at ++387 61 539 535 or email at wcjp [at] odihr.pl
For more information on the War Crimes Justice Project please visit http://www.icty.org/sid/240


War Crimes Justice Project Partners



This project is funded by
the European Union

Implemented by

: