Exclusively for the use of the media. Not an official document)

The Hague, 10 January 2012
VE/CS/1472e
ICTY donates books to Zagreb Law Faculty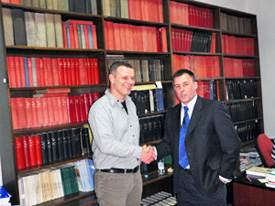 Dragutin Nemec, of the Zagreb Law School Library and ICTY Outreach Liaison Officer Christopher Fry

.
 
The Tribunal today made a significant donation of legal material to the Law Faculty of Zagreb, Croatia. The donation was organised by the Tribunal's Outreach Programme.
The donation includes a large number of copies of the Yearbooks of the ICTY and the International Criminal Court, the Australian Review of International and European Law and the United States Code Annotated.
The donation forms part of the Tribunal's commitment to promote respect for the rule of law across the region. The books will considerably strengthen the Faculty's potential to provide students and practicing legal professionals with educational resources in the field of international law.
Commenting on the book donation, Andrea Horić, Head of Zagreb University Law Faculty Library, said: "The Law Faculty Library is grateful for the donation of publications from the ICTY, which we believe will enhance the study of fundamental values of international humanitarian law by our users, including scientists, professors, students, and lawyers. We will improve our service related to topics of international law, criminal law and the rule of law, and facilitate the promotion of internationally recognised values and legal standards at our institution, within the wider community and at regional level, to which we are linked in various ways."
As the ICTY moves towards the completion of its mandate, the Outreach Programme is intensifying its efforts to increase the local communities' access to and understanding of the international criminal justice system and the Tribunal's achievements within it.
The Outreach Programme was created in 1999 with the purpose of improving the understanding of the work of the Tribunal and its relevance in the territory of the former Yugoslavia. As the first programme of its sort, the Tribunal set a precedent for other criminal tribunals which have since set up similar programmes.
The Outreach Programme is generously supported by the European Union.
* * *

*****
International Criminal Tribunal for the former Yugoslavia
For more information, please contact our Media Office in The Hague
Tel.: +31-70-512-8752; 512-5343; 512-5356 - Email: press [at] icty.org ()
Follow ICTY on Twitter and Youtube