| | |
| --- | --- |
| Press Release | |
| (Exclusively for the use of the media. Not an official document) |   |
The Hague, 20 October 2010
FT/MOW/1367e

ICTY Donates Computers to  Bosnian Elementary School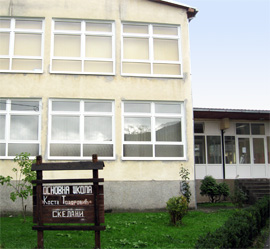 The Skelani school, near Srebrenica
The International Criminal Tribunal for the former Yugoslavia yesterday donated 15 computer sets and other equipment to an elementary school in Skelani near Srebrenica in Bosnia and Herzegovina.
The computers will enable 120 pupils of the multiethnic Kosta Todorovic elementary school to develop their computing skills and the school itself to improve its accounting and managing methods.
"This is a very significant donation and it will be especially welcomed by our pupils who were unable to take information technology  classes as the school could not afford computers," said Ljubimko Katanic, school director.
This latest donation is part of an ongoing ICTY project carried out by the Asset Disposal Unit that aims to furnish organisations in the former Yugoslavia with IT equipment and vehicles no longer used by the Tribunal.
Since 2005, the Tribunal has made more than 48 separate donations of 950 computers and other office equipment to schools and institutions throughout the region, 600 of them to Bosnia and Herzegovina.
           
* * *
For further information about this project, please go to:
http://www.icty.org/sid/313
 
To watch a short video on the Asset Disposal Unit, please go to:
http://www.youtube.com/watch?v=nXBu3QLsCnQ
Journalists can also contact Nerma Jelačić, Spokesperson
for Registry and Chambers at jelacicn [at] un.org and +31 65 357 8006

*****
International Criminal Tribunal for the former Yugoslavia
For more information, please contact our Media Office in The Hague
Tel.: +31-70-512-8752; 512-5343; 512-5356 Fax: +31-70-512-5355 - Email: press [at] icty.org ()
Follow ICTY on Twitter and Youtube