| | |
| --- | --- |
| Press Release | |
| (Exclusively for the use of the media. Not an official document) |   |
The Hague, 9 December 2010
NB/MOW/1378e
ICTY donates legal materials to law libraries in Cameroon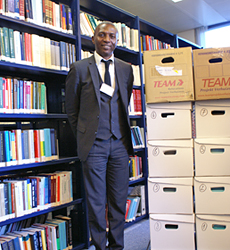 Barnabe Nekuie, President of ASF Cameroon
The ICTY today made a substantial donation of legal journals to the Cameroonian branch of Avocats Sans Frontières (ASF), a non-governmental organisation committed to the establishment of just, equitable and united societies around the world.
The donation consisted of an extensive anthology of French-language journals, including the International Review of Comparative Law and the International Review of Criminal Law, as well as various legal manuals and books on the theory and practice of law.
"ASF Cameroon has a longstanding project of establishing a free library at the Appeal Courts of Douala and Yaounde, and this donation is a substantial contribution to its realisation…your donation will help our law practitioners accustom themselves to the rules and case law of international criminal law," said the President of ASF Cameroon, Barnabe Nekuie.
Commenting on the donation, the Tribunal's Registrar John Hocking said, "The Tribunal is proud to be able to support the development of international law around the world. We hope that this initiative will be a great success and wish the lawyers of Cameroon the best of luck with their new libraries."
The ICTY is committed to promoting global respect for the rule of law, a crucial step on the road to building modern societies and advancing international human rights standards and values.
   

*****
International Criminal Tribunal for the former Yugoslavia
For more information, please contact our Media Office in The Hague
Tel.: +31-70-512-8752; 512-5343; 512-5356 Fax: +31-70-512-5355 - Email: press [at] icty.org
Follow ICTY on Twitter and Youtube