REGISTRY
PRESS RELEASE
(Exclusively for the use of the media. Not an official document)
The Hague, 25 March 2013
CS/PR1553e
ICTY launches web feature on Outreach Youth Education Project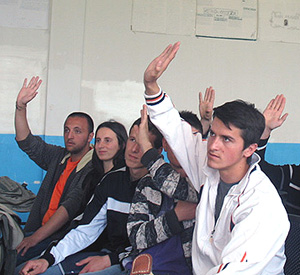 Today the Tribunal's Outreach Program has released a new web feature on its Youth Education Project.
Through first-hand accounts, photos and an interactive map, the web feature describes how high school and university students across the former Yugoslavia were provided information in 2011-2012 by Tribunal officials about the ICTY's role in holding accountable those responsible for crimes committed in their communities and across the region during the conflict in the 1990's.
Speaking about the new web feature, the ICTY Head of Communications, Nerma Jelačić said that "[t]his was one of the most successful and ambitious Outreach undertakings. It is satisfying that we can now share information about this project that has helped us forge a stronger connection with young people in the region of the former Yugoslavia. Through these discussions, we have not only made the Tribunal more accessible to young people, but have also tapped into the huge potential of young generations to impact on the process of facing the past".
Over the course of 2011-2012, approximately 3,500 students from 50 high schools and 30 universities throughout Bosnia and Herzegovina, Croatia, Kosovo, Serbia, the former Yugoslav Republic of Macedonia and Montenegro received information about the ICTY through the Youth Education Project. Presentations about the Tribunal's work took place in a number of the communities most affected by the crimes in the 1990's, including Srebrenica, Foča, Prijedor, Mostar, Vukovar, Petrinja, Kačanik and Djakovica/Gjakovë. In February 2013, a second phase of the Youth Education Project was launched in Bosnia and Herzegovina to further strengthen the impact of this project. The second phase builds upon the results achieved by the project and the lessons learnt thus far.
As the ICTY moves closer towards the completion of its mandate, the Outreach Program has intensified its efforts to ensure that local communities are able to access information on the Tribunal's achievements. The Outreach Program seeks to promote a greater understanding of the Tribunal's work throughout the region of the former Yugoslavia.
The Outreach Program benefits from the continuous support of the European Union and its work with young people is generously supported by the Finnish government.