PRESS ADVISORY
(Exclusively for the use of the media. Not an official document.)
The Hague, 15 September 2014
CS/PA546e
ICTY to open its doors for The Hague International Day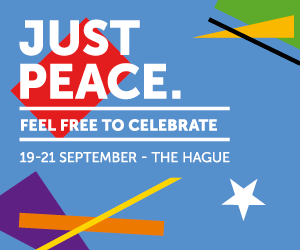 The ICTY will be opening its doors to the public on Sunday, 21 September 2014 as part of the annual Just Peace weekend, organised by the Municipality of The Hague. The Sunday event gives the public an opportunity to take a look behind the scenes of the International City of Peace and Justice, by visiting the Tribunal and other international organisations in the city.
The Tribunal will be open between 11 a.m. and 5 p.m., with the day's events beginning with a welcome address by Judge Christoph Flügge at 11.15am. Visitors will also have an opportunity to later meet and ask questions to the Judge, and to Deputy Registrar Kate Mackintosh. There will also be guided tours of a courtroom, exhibitions and documentary film screenings, introducing visitors to the work of the Tribunal. In addition, presentations on various aspects of the Tribunal's work will take place throughout the day, and ICTY staff will be on hand to meet visitors, and answer questions
Those wishing to join in with the Open Day activities can register on the website of the Municipality. Free shuttle buses to the ICTY and other organisations opening the doors that day will depart from GEM Museum.
Media are welcome to cover the ICTY's Open Day from 11.15 a.m. to 12.30 p.m. in the lobby of the Tribunal and are invited to film the welcoming remarks, as well as visitors enjoying a courtroom tour and presentations. Please note that hand-held cameras without tripods should be used for filming and that lighting equipment cannot be accommodated.
Media wishing to attend the event should send an e-mail to the Media Office at press [at] icty.org by Friday, 19 September 4pm. Journalists should provide their full names, the name of their media outlet and their passport number.
More information on Open Day and other events during the Just Peace weekend can be found here: http://www.justpeacethehague.com/en/#/home