PRESS ADVISORY
(Exclusively for the use of the media. Not an official document.)
 The Hague, 20 September 2013
CS/PA1534e
ICTY to open its doors for The Hague International Day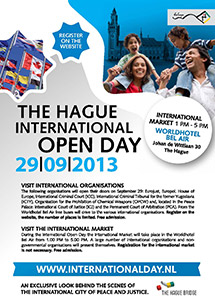 The ICTY will be opening its doors to the public on 29 September 2013 as part of the sixth annual 'International Day'. This event, organised by the Municipality of The Hague, offers the public a glimpse behind the scenes of the International City of Peace and Justice.
Speaking of the event, Tribunal President Theodor Meron said: "The ICTY each year welcomes the chance to introduce ourselves to our neighbours in The Hague. That so many hundreds of people visit us during the International Day demonstrates the importance of international justice to members of the general public, and we are delighted to be once again afforded the opportunity to present our work and achievements to citizens of the Netherlands."
The doors of the Tribunal will be open between 11 a.m. and 5 p.m., with the day's events beginning with a welcome address by President Meron at 11:15 a.m. Further highlights will include a question and answer session with Judge Alphons Orie, a citizen of the Netherlands. There will also be guided tours of a courtroom given by staff members, and an exhibition and films introducing visitors to work of the Tribunal. In addition, general presentations will take place throughout the day and ICTY officials will be on hand to meet visitors, to answer questions, and to talk about their work at the Tribunal.
The ICTY will also be represented at the International Market, taking place at the Worldhotel Bel Air on the same day. Visitors to the Tribunal's booth at the Market will have the chance to peruse a wide variety of information materials covering the work of the ICTY and to address any questions they may have to representatives of the Tribunal.
Those wishing to join in with the Open Day activities can register on the website of the Municipality.
Media are welcome to cover the ICTY's Open Day from 11.15 a.m. to 12.30 p.m. in the lobby of the Tribunal and are invited to film the welcoming remarks, as well as visitors enjoying a courtroom tour and presentations. Please note that hand-held cameras without tripods should be used for filming and that lighting equipment cannot be accommodated.
Media wishing to attend the event should send an email to the Media Office at press [at] icty.org by Friday, 27 September 4pm. Journalists should provide their full names, the name of their media outlet and passport number.