TRIBUNAL
Press Release
(Exclusively for the use of the media. Not an official document.)
The Hague, 27 June 2014
CS/CT/PR1605e
ICTY Outreach documentary Through their Eyes: Witnesses to Justice screened in The Hague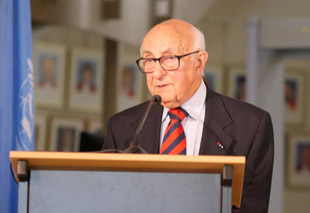 The third feature-length documentary produced by the Tribunal's Outreach Programme - Through their Eyes: Witnesses to Justice - was screened yesterday at the Tribunal before an audience of ambassadors, government officials and judges. The documentary tells the story of five victims and witnesses who provided testimony before the ICTY, highlighting their courage and focusing on the importance of live testimony in the context of international justice.
Speaking to guests at the screening, President Meron stated "This documentary (…) offers valuable insights into the personal and deeply affecting experiences of several of the thousands of witnesses who have travelled to The Hague from afar to testify in proceedings before this Tribunal. I need not tell you how critically important witness evidence has been to the work of this Tribunal over the past twenty years".  
The screening was followed by a panel discussion and an opportunity for guests to ask questions. Panelists included Petar Finci, co-producer of the documentary, Nerma Jelačić, Head of the Tribunal's Communications Service, and Helena Vranov Schoorl, Head of Victims and Witnesses Support and Operations at the ICTY. The panelists spoke about the creation of the film, the importance of this project in regard to Outreach and the legacy of the Tribunal, and the support mechanisms provided to victims and witnesses in order to ensure their wellbeing while testifying before the court.
Following the discussion, H.E. Ahmet Halilović, Ambassador of Bosnia and Herzegovina to the Netherlands emphasised the importance of the message that the film conveys, which is that one should not be afraid to talk about crimes, and that justice always prevails in the end. "It is important to talk about what happened and ensure that those who are guilty do not escape unpunished".  
Claudia Perdomo, Head of Outreach at the International Criminal Court underscored the importance of such projects. Without the investment in communication, international tribunals and other courts will have no impact whatsoever. She further added: "You have to ask yourself, are we here just to render justice, or to render justice in order to make an impact in the world, and to let the people know that these crimes should never happen again"?
Through their Eyes: Witnesses to Justice premiered in November last year during the Tribunal's 20th anniversary conference in Sarajevo, Bosnia and Herzegovina. It has since been distributed to victim organisations, schools and partner NGOs in the former Yugoslavia and beyond in an effort to bring the work of the Tribunal closer to the affected communities, and to the international public. The production of documentaries forms part of the Tribunal's efforts to raise awareness about the ICTY's role in trying those accused of being responsible for crimes committed in the former Yugoslavia.
The Outreach Programme is generously supported by the European Union.
 
---