| | |
| --- | --- |
| Press Release | |
| (Exclusively for the use of the media. Not an official document) |   |
The Hague, 17 January 2011
VE/MOW/1384e

ICTY Outreach Programme Receives Continued Support from the EU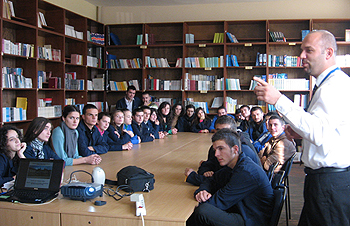 During one of  the ICTY Outreach presentations to Kosovo high-school students , January 2010.

The Tribunal's Outreach Programme is pleased to announce the renewed support of the European Union (EU) for its work in bringing the ICTY closer to the communities of the former Yugoslavia.
The European Union has granted one million euros for Outreach activities to be carried out in 2011 and 2012 across the region through the European Instrument for Democracy and Human Rights. The EU has been a long-term supporter of the Tribunal's Outreach Programme, which largely depends on voluntary contributions.
As the ICTY nears the end of its mandate, the Outreach Programme will seek to further expand its efforts in making the Tribunal's work more accessible and understandable to the affected communities of the former Yugoslavia. The European Union's generous contribution will enable the Outreach Programme to continue engaging society in the region through a series of Outreach events, thereby contributing to the public debate on the Tribunal's work.
The Tribunal's Registrar, John Hocking, said: "I am very pleased that the European Union continues to give our Outreach Programme the support and trust it deserves. We are entering the last phase of the Tribunal's mandate and with it the importance of outreach only increases. The Tribunal's achievements are vast, which is why we must ensure an enhanced presence in the region through information campaigns and healthy debates if we are to leave behind a positive legacy after our mandate is completed."
The Outreach Programme was created in 1999 with the purpose of improving the understanding of the work of the Tribunal and its relevance in the territory of the former Yugoslavia. As the first programme of its sort, the Tribunal set a precedent for other criminal tribunals to set up similar programmes.
 

****
For further information on Outreach Programme, please contact Nerma Jelačić, Acting Head of Media Outreach
and Web on +31 65 357 8006 or jelacic [at] un.org ( )
or visit
http://www.icty.org/sections/Outreach



*****
International Criminal Tribunal for the former Yugoslavia
For more information, please contact our Media Office in The Hague
Tel.: +31-70-512-8752; 512-5343; 512-5356 Fax: +31-70-512-5355 - Email: press [at] icty.org
Follow ICTY on Twitter and Youtube