Tribunal
PRESS RELEASE
(Exclusively for the use of the media. Not an official document)
The Hague, 12 May 2014
RPS/CS/1601e
ICTY publishes its 2013 Outreach Annual Report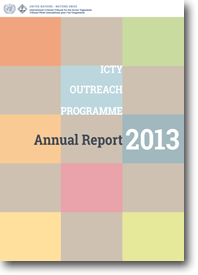 The Tribunal's Outreach Programme today published its Annual Report for 2013, featuring a whole range of activities in a year of special importance to the ICTY.
The Tribunal's President, Theodor Meron introduced the report underlining that '2013 marked the 20th anniversary of the ICTY, and was thus a moment for particular reflection on the Tribunal's achievements and continuing challenges'. He added that the Outreach Programme played a special role in that process, 'launching and continuing a number of important initiatives that disseminated information about the work of the Tribunal and encouraged debate about its legacy.'
The 2013 Outreach Annual Report presents an overview of the Programme's activities – from youth and media outreach, work with grass-root communities and the production of documentaries. An analysis of the growing impact of Outreach's enhanced presence on the Web, especially through its social media platforms is also presented. The Report also includes outreach activities undertaken by the ICTY President's Office and the Office of the Prosecutor.
The report is available on the ICTY website in English, French and Bosnian/Serbian /Croatian, and will be distributed to stakeholders in the region of the former Yugoslavia and worldwide.
The Outreach Programme was created in 1998 to explain the work of the Tribunal and to bridge the distance between The Hague and the former Yugoslavia. As the first Programme of its kind, ICTY Outreach set a precedent for other criminal tribunals which have since set up similar initiatives. ICTY Outreach benefits from the continuous support of the European Union, while a number of other donors have supported selected activities.
---
If you would like to support or get involved in the Tribunal's Outreach Programme please contact Nerma Jelačić, Head of Communications, at jelacic [at] un.org or +31 70 512 5580