| | |
| --- | --- |
| Press Release | |
| (Exclusively for the use of the media. Not an official document.) |   |
The Hague, 20 September 2011
JKE/MOW/1443e
ICTY welcomes unprecedented number of visitors for The Hague International Day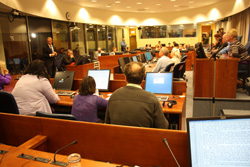 Members of the public were able to
explore the inside of a courtroom
More than 750 members of the public passed through the Tribunal's doors on 18 September 2011 as part of the fourth annual 'International Day' organised by the Municipality of The Hague.  Record visitor numbers, which were over double that of 2010, illustrate the continuing high level of public interest in the work of the ICTY.
Commenting on the International Day, Registrar John Hocking said: "As its mandate draws to a close, the ICTY welcomes the opportunity to take part in such events and to present its work and achievements to the public. I am particularly pleased that this year, so many visitors took advantage of the Open Day and came to the Tribunal to learn more about its mandate and functioning."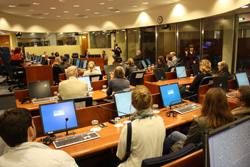 Members of the public were able to
explore the inside of a courtroom
For the first time in the ICTY's history, members of the public were given open access to one of its courtrooms through a tour guided by its staff members. Visitors were able to sit on the Judges' bench, or take the places of the Prosecution or the Defence Counsel while listening to presentations by ICTY staff on how the Tribunal's courtrooms operate. An exhibition and a film introduced visitors to the ICTY, whilst question and answer sessions with Judge Alphons Orie and Prosecutor Serge Brammertz gave visitors a personalised insight into the Tribunal's core activities. ICTY officials were on hand throughout the day to meet visitors, to answer their questions and to present the work and achievements of the Tribunal. Courtroom presentations and general presentations took place throughout the day.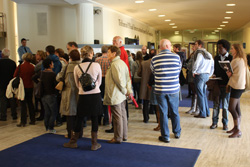 The ICTY also welcomed visitors to its stand at the International Fair, held at the World Forum Convention Centre on the same day. The Fair provided international organisations and NGOs based in The Hague with an occasion to present themselves to around 2,500 visitors and to answer questions.
The Tribunal invites visitors with feedback on the day's events at the ICTY to email the press [at] icty.org (Media Office).
*****
International Criminal Tribunal for the former Yugoslavia
For more information, please contact our Media Office in The Hague
Tel.: +31-70-512-8752; 512-5343; 512-5356 Fax: +31-70-512-5355 - Email: press [at] icty.org ()
Follow ICTY on Twitter and Youtube