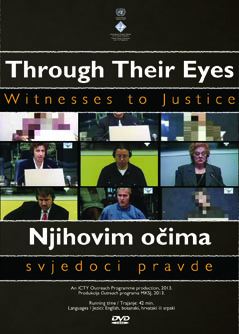 The Tribunal's Outreach Programme invites journalists to the screening of its latest documentary "'Through Their Eyes: Witnesses to Justice," which depicts the crucial role played by victims and witnesses in the prosecution of crimes committed during the 1990's in the territory of the former Yugoslavia.
The screening will take place at the ICTY, Churchillplein 1, on Thursday, June 26 2014, at 16:00. The screening will open with a speech by the ICTY President, Judge Theodor Meron. Following the screening there will be a panel discussion and Q&A session. Journalists wishing to attend should contact the Media Office at press [at] icty.org () by Tuesday, 24 June.
The documentary tells the story of five victims and witnesses who provided testimony before the ICTY. By highlighting their personal experiences, it portrays their courage, explores their motives for testifying and emphasizes the importance of live testimony in the context of international justice.
Among the panelists who will be participating in the panel discussion are Petar Finci, co-producer of the documentary, Nerma Jelačić, Head of the Tribunal's Communications Service, and Helena Vranov Schoorl, Head of Victims and Witnesses Support and Operations at the ICTY. Collectively, they will speak about the creation of the film, the importance of this project in regards to Outreach and the legacy of the Tribunal, and the support mechanisms provided to victims and witnesses in order to ensure their wellbeing while testifying before the court.
"Through Their Eyes: Witnesses to Justice" is the third feature-length documentary produced by the ICTY Outreach Programme in an effort to bring the work of the Tribunal closer to the communities in the former Yugoslavia, and to the international public. The Outreach Programme is generously supported by the European Union.
---
For further information please contact Nerma Jelačić, Head of Communications Service, at +31 (0) 6 5357 8006 or
jelacic

[at]

un.org