The Hague, 24 October 2011



As it nears the successful completion of its mandate, the ICTY marks UN Day with no remaining fugitives
 

The United Nations International Criminal Tribunal for the former Yugoslavia has indicted 161 persons for war crimes, crimes against humanity or genocide. It has completed proceedings against 126 of them.

"As the first international criminal tribunal since Nuremberg and Tokyo, and the first one established by the UN, the ICTY reversed the tradition of impunity for war crimes and sent a message that international criminal justice could be delivered. This justice has touched countless individuals in the former Yugoslavia and helped them to restore both their dignity and the rule of law in the region as a whole," said ICTY Registrar John Hocking.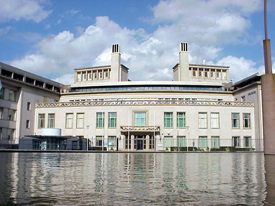 By indicting heads of state, prime ministers, army chiefs-of-staff, ministers and many other leaders from various parties to the Yugoslav conflicts, the Tribunal has made individuals accountable regardless of their positions and powers. The ICTY has brought justice to victims from a range of different communities within the former Yugoslavia, and has provided them with the opportunity to speak about their suffering and to be heard. As of mid-2011, more than 4,000 witnesses had told their stories in court, thereby contributing to the process of establishing the facts about the crimes committed in the former Yugoslavia. Establishing such facts is crucial in order to combat denial and prevent attempts at revisionism, and helps lay the groundwork for good relations and lasting peace among the peoples of the former Yugoslavia.
The ICTY has also inspired and contributed to legal and judicial reforms in the countries of the former Yugoslavia. The Tribunal has helped to increase the capacity of the region's national courts to adjudicate war crimes cases through the transfer of evidence, knowledge and jurisprudence to the local judiciaries. When the ICTY finally closes its doors, the local courts will carry on the work of trying those responsible for war crimes.
In the eighteen years since it was established, the Tribunal's huge corpus of jurisprudence has extensively contributed to the development of international criminal and humanitarian law. This jurisprudence, along with established facts, developed practices, and an enormous archive, now forms part of the legacy of the ICTY, an inheritance for the UN family and for international community as a whole. The Tribunal is now working towards the preservation of this legacy and towards ensuring that it is accessible to institutions, communities and individuals from the former Yugoslavia and from all over the world.

*****
International Criminal Tribunal for the former Yugoslavia
For more information, please contact our Media Office in The Hague
Tel.: +31-70-512-8752; 512-5343; 512-5356 Fax: +31-70-512-5355 - Email: press [at] icty.org ()
Follow ICTY on Twitter and Youtube