| | |
| --- | --- |
| Press Release | |
| (Exclusively for the use of the media. Not an official document) |   |
The Hague, 13 May 2009
NJ/MOW/PR1317e
John Hocking Appointed as Tribunal Registrar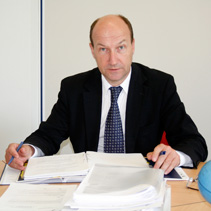 John Hocking

,

ICTY Registrar
The International Criminal Tribunal for the former Yugoslavia welcomes the UN Secretary-General's announcement of the appointment of John Hocking as the new Registrar of the Tribunal.
The appointment, effective Friday, 15 May 2009, was made by Ban Ki-moon in consultation with Tribunal President, Judge Patrick Robinson, in accordance with the Statute of the Tribunal.  He has been appointed for a term of four years or until the completion of the Tribunal's mandate, if sooner.
As Registrar, Mr. Hocking will be in charge of the body of the Tribunal which provides administrative, legal and other support essential for the successful completion of the institution's mandate.
Mr. Hocking is a long-standing staff member of the ICTY having joined the institution in 1997. He held the position of Deputy Registrar from December 2004 until January 2009 when he was named Acting Registrar.
The Registrar's biography is available on the Tribunal's website at the following link: http://www.icty.org/sid/168

*****
International Criminal Tribunal for the former Yugoslavia
For more information, please contact our Media Office in The Hague
Tel.: +31-70-512-5343; 512-5356 Fax: +31-70-512-5355 - Email: press [at] icty.org ()