CHAMBERS
PRESS RELEASE
(Exclusively for the use of the media. Not an official document)
The Hague, 31 October 2013
CS/PR1587e
Judge Niang nominated to the Bench in the Šešelj case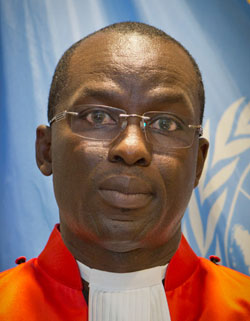 Judge Mandiaye Niang
Acting President of the Tribunal, Judge Carmel Agius, today issued a decision assigning Judge Mandiaye Niang to join the Bench in the case of Vojislav Šešelj.
The Acting President also expressed his view that the Trial Chamber should consult with the Accused on whether to rehear the case or continue the proceedings with the newly appointed Judge, as envisaged in Rule 15bis(D). The decision states moreover that it is ultimately up to the Trial Chamber to determine whether or not the trial will proceed.
On 9 July 2013 Vojislav Šešelj's filed a motion seeking the disqualification of Judge Harhoff from all further proceedings in his case. The President of the Tribunal withdrew from considering the motion on 23 July 2013 and assigned the Vice-President Judge Agius, pursuant to Rule 22(A) of the Rules of Procedure and Evidence, to consider the motion in his place. On 28 August, Chamber appointed by Judge Agius as Acting President issued a Decision in which the Majority, Judge Liu dissenting, upheld Šešelj's motion and disqualified Judge Harhoff from the case.
On 3 September 2013, Judge Jean-Claude Antonetti, and Judge Flavia Lattanzi, the two remaining judges on the Šešelj Bench, filed a request for clarification of the Decision with the Chamber and the Acting President. Judge Harhoff filed a similar request with the Chamber on the same date. Also on 3 September, the Prosecution filed a motion seeking reconsideration and the stay of the Decision before the Acting President. On 6 September 2013, the Vice-President issued an order reconvening the Chamber in order to reconsider the Prosecution Motion. On 7 October, the Chamber denied by Majority, Judge Liu dissenting, the Prosecution's Motion of 3 September seeking reconsideration of its Decision of 28 August 2013.
Vojislav Šešelj, the leader of the Serbian Radical Party, is on trial before the Tribunal for alleged war crimes and crimes against humanity committed between 1991 and 1994 against the non-Serb population from large parts of Bosnia and Herzegovina, Croatia, and Vojvodina in Serbia. His trial commenced on 7 November 2007.
Judge Mandiaye Niang from Senegal was sworn in to the joint Appeals Chamber of the ICTR and ICTY on 30 October 2013 following his appointment by the Secretary-General of the United Nations as permanent judge of the International Criminal Tribunal for Rwanda (ICTR) effective from 11 September 2013.