| | |
| --- | --- |
| PRESS RELEASE | |
| (Exclusively for the use of the media. Not an official document) |   |
The Hague, 16 May 2011
CT/MOW/PR1408e

Karadžić Case: Trial Chamber Conducts Site Visit in Sarajevo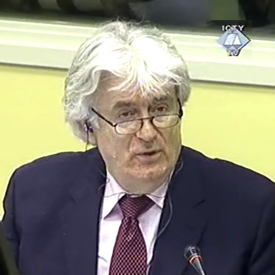 Radovan Karadžić
The Trial Chamber in the case of Radovan Karadžić, the former leader of Bosnian Serbs, today begins a five-day site visit to several locations in Sarajevo, Bosnia and Herzegovina and its surrounding areas.
The visiting delegation consists of Trial Chamber III Judges Kwon (presiding), Morrison, Baird and Lattanzi as well as support staff from the Tribunal along with representatives of both the Prosecution and Defence.
Following a request made by the accused, the Chamber agreed that a site visit would assist them in their work regarding the relevant crime locations in and around Sarajevo. Karadzic is charged with responsibility for a protracted campaign of shelling and sniping of civilian areas of Sarajevo during the 44-month siege. The indictment states that as a result, thousands of Sarajevo civilians were killed and wounded, including children and the elderly.
   
According to the indictment, the shelling and sniping was directed at civilians who were tending vegetable plots, queuing for bread, collecting water, attending funerals, shopping in markets, riding on trams, gathering wood, or simply walking with their children or friends. People were even injured and killed inside their own homes, being hit by bullets that came through the windows. The indictment alleges that the attacks on Sarajevo civilians were often unrelated to military actions and were designed to keep the inhabitants in a constant state of terror.
Karadžić, former President of Republika Srpska, head of the Serb Democratic Party (SDS) and Supreme Commander of the Bosnian Serb Army (VRS), is charged with genocide, crimes against humanity and violations of the laws and customs of war committed in Bosnia and Herzegovina between 1992 and 1995.
Karadžić was indicted on 25 July 1995. He was transferred into the Tribunal's custody on 30 July 2008 after more than 13 years of evading arrest. The trial began on 26 October 2009 and is currently on a short suspension until 31 May 2011.


*****
Press agencies are advised that there will be no media opportunities during the site visit.

For more information please contact Nerma Jelačić, Spokesperson for Registry and Chambers on +31 65 357 8006
*****
International Criminal Tribunal for the former Yugoslavia
For more information, please contact our Media Office in The Hague
Tel.: +31-70-512-8752; 512-5343; 512-5356 Fax: +31-70-512-5355 - Email: press [at] icty.org
Follow ICTY on Twitter and Youtube