PRESS RELEASE
(Exclusively for the use of the media. Not an official document)
The Hague, 1 July 2013
PR1573e
Mechanism for International Criminal Tribunals (MICT) begins work in The Hague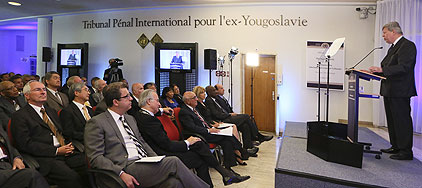 The launch of the Hague Branch of the Mechanism for International Criminal Tribunals (MICT or Mechanism) was marked by a ceremony held today in The Hague, which brought together over 200 international officials, government representatives from the former Yugoslavia, judges and staff of the ICTY and MICT, ICTR senior officials and the media.
The establishment of the Mechanism is an important part of the ICTY's and ICTR's Completion Strategies. The Mechanism is tasked with the continuation of essential functions of both Tribunals and the preservation of their legacy.
The ceremony was opened by Judge Theodor Meron, President of the MICT and the ICTY, and featured a keynote speech by Ms Patricia O'Brien, the United Nations Under-Secretary-General for Legal Affairs.  Mr Ivo Opstelten, the Minister of Security and Justice of the Netherlands; Mr Jozias van Aartsen, the Mayor of The Hague; Mr Serge Brammertz, Prosecutor of the ICTY; Mr Hassan Bubacar Jallow, Prosecutor of the MICT and the ICTR; and Mr. John Hocking, Registrar of the MICT and the ICTY also delivered remarks.
Addressing the audience, President Meron stated that "These two Tribunals have demonstrated that a shared commitment to accountability can and will win out over impunity, that heinous crimes can be punished, whoever their architects may be – and that principled justice, fair and impartial justice, is the only way to uphold the rule of law."
"It is on these strong foundations that the Mechanism itself can now rise up and take its place among the international institutions here in the International City of Peace and Justice," added President Meron.
The functions of the Hague Branch of the Mechanism will include: maintaining protective measures granted to victims and witnesses by the ICTY, hearing any appeals from judgements or sentences issued by the ICTY that fall within the Mechanism's competence, as well as handling requests for review of judgements, as mandated by the Security Council. The Mechanism will maintain the Tribunal's vital role in assisting national jurisdictions by granting access to evidence, providing assistance in tracking fugitives in cases which have been transferred to national authorities, and monitoring cases transferred to national jurisdictions to ensure fair and impartial adjudication. Responsibility for the preservation and management of the ICTY's archives will also be an essential function for the Mechanism as the ICTY, working alongside the Mechanism, nears the completion of its mandate.
The Arusha Branch of the MICT, which took on functions derived from the ICTR, commenced operations on 1 July 2012.