| | |
| --- | --- |
| Press Advisory | |
| (Exclusively for the use of the media. Not an official document) |   |
The Hague, 19 October 2009
    NJ/MOW/PA383e
Media Accreditation Procedure for Radovan Karadžić Trial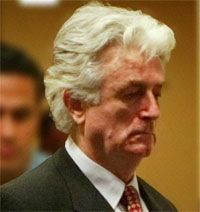 Radovan Karadžić
The accreditation procedure for members of the media wishing to attend the start of the trial of Radovan Karadžić is now open.
Requests for accreditation will be accepted for the first two days of trial, covering the Prosecution's opening statements, scheduled for Monday, 26 October 2009 at 9:00 and Tuesday, 27 October at 14:15. A separate procedure will be in place for the opening words of the Defence.
To accredit, members of the media are invited to fill out the relevant form available on www.icty.org by noon, Wednesday 21 October. Please note that this is an online procedure only and telephone requests cannot be processed.
Names of accredited journalists will be published on the website on Thursday, 22 October. Accreditations must be collected between 16:00 and 18:00 on Sunday, 25 October from the Media Centre in the World Forum, located immediately in front of the Tribunal. Journalists are advised to keep the accreditation ticket throughout the two days of their stay in the building as duplicates cannot be issued.
Members of the media are invited to familiarise themselves with the official procedure for gaining access to the ICTY main building and courtrooms.
******
*****
International Criminal Tribunal for the former Yugoslavia
For more information, please contact our Media Office in The Hague
Tel.: +31-70-512-8752; 512-5343; 512-5356 Fax: +31-70-512-5355 - Email: press [at] icty.org