| | |
| --- | --- |
| Press Advisory | |
| (Exclusively for the use of the media. Not an official document) |   |
The Hague, 27 June 2011
VE/MOW/PA436e

Media Accreditation for Ratko Mladić's Further Initial Appearance on 4 July 2011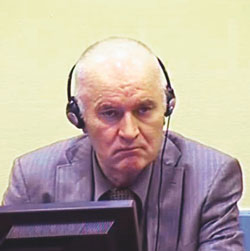 Ratko Mladić
Ratko Mladić's further initial appearance is scheduled to be held on Monday, 4 July 2011 at 10:00 in Courtroom I.

The accreditation procedure for members of the media wishing to attend the hearing is now open.

To accredit, members of the media are invited to fill out the relevant form available on the ICTY website by 12:00 p.m. on Thursday 30 June. Please note that this is an online procedure only and telephone requests cannot be processed.

Names of accredited journalists will be published on the website on Thursday, 30 June after 5:00 p.m. Accreditations must be collected between 7:30 and 9:00 on Monday, 4 July from the Tribunal's main entrance.

Members of the media are requested to familiarise themselves with the official procedure for gaining access to the ICTY main building and courtrooms.