| | |
| --- | --- |
| Press Release | |
| (Exclusively for the use of the media. Not an official document) |   |
The Hague, 26 June 2009
VE/MOW/PR1323e
Milan Martić Transferred to Estonia To Serve Sentence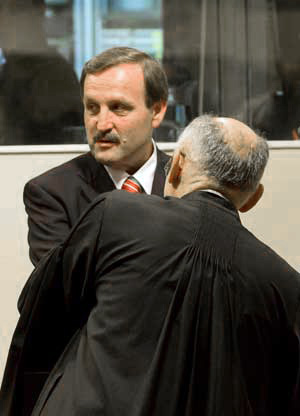 Milan Martić
Milan Martić, the former wartime political leader of Croatian Serbs, was transferred today to Estonia to serve his 35-year sentence for crimes committed against Croats and other non-Serbs in Croatia between 1991 to 1994.
On 12 June 2007, the Trial Chamber sentenced Martić to 35 years' imprisonment for crimes against humanity and violations of the laws or customs of war, including persecutions, murder, torture, deportation, attacks on civilians and wanton destruction of civilian areas.
The Trial Chamber found that Martić had participated in a joint criminal enterprise whose aim was to create a unified Serb territory through the forcible removal of the non-Serb population inhabiting areas under his control.
The Trial Chamber found that virtually the entire Croat and other non-Serb population was expelled from the area under Martić's control. His guilt was affirmed for the crimes committed in the villages of Hrvatska Dubica, Baćin, Saborsko, Lipovača, Škabrnja, Nadin, and Bruška among others. He was also found guilty of ordering indiscriminate rocket attacks on the city of Zagreb on 2 and 3 May 1995 in which seven people died and more than 200 were wounded.
Both the prosecution and defence appealed the Judgement. On 8 October 2008, the Appeals Chamber affirmed Martić's guilt and 35-year sentence.
An information sheet concerning the case can be found on the Tribunal's website.
The Tribunal indicted 161 persons for serious violations of humanitarian law committed on the territory of former Yugoslavia between 1991 and 2001. Proceedings against 120 persons have been concluded.  
*****
Courtroom proceedings can be followed on the Tribunal's website at www.icty.org
*****
International Criminal Tribunal for the former Yugoslavia
For more information, please contact our Media Office in The Hague
Tel.: +31-70-512-5343; 512-5356 Fax: +31-70-512-5355 - Email: press [at] icty.org ()