Exclusively for the use of the media. Not an official document)

The Hague, 24 February 2012
VE/CS/PR1481e
Milan Tupajić sentenced to 2 months' imprisonment for Contempt of the Tribunal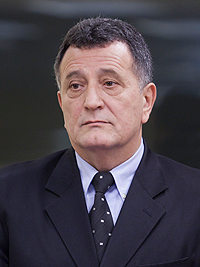 Milan Tupajić
Today Trial Chamber III sentenced Milan Tupajić, former chief of the crisis staff and war-time president of the municipality of Sokolac, Bosnia and Herzegovina, to 2 months' imprisonment for failing to comply with the Chamber's orders to appear as a witness in the trial of Radovan Karadžić.
In rendering its Judgement, the Chamber "considered the gravity of the offence and the fact that by refusing to comply with the subpoenas and to testify before the Chamber, the Accused had deprived the Chamber in the Karadžić case of relevant evidence." 
The Trial Chamber first considered Tupajić's claim that his primary reason for refusing to appear before the Chamber related to his health concerns. After reviewing documents in support of his health concerns, the Chamber considered that "his health concerns do not constitute a just excuse for his failure to comply with the orders as contained in the subpoenas."
The Chamber further found that Tupajić was aware of the contents of the subpoenas and the obligation contained therein, as well as of the consequences of his failure to comply with the subpoenas.
Tupajić is entitled to credit for time served in detention thus far.
The Order in Lieu of Indictment was filed on 30 November 2011. Tupajić was arrested by Bosnian authorities on Tuesday, 13 December 2011. At his initial appearance on 16 December 2011, Tupajić pleaded not guilty. The trial was held on 3 February 2012.
* * *
*****
International Criminal Tribunal for the former Yugoslavia
For more information, please contact our Media Office in The Hague
Tel.: +31-70-512-8752; 512-5343; 512-5356 - Email: press [at] icty.org ()
Follow ICTY on Twitter and Youtube