(Exclusively for the use of the media. Not an official document)
The Hague, 24 April 2012
VE/CS/PR1494e


Outreach Programme documentary on sexual violence premieres in Belgrade
The Tribunal's Outreach Programme yesterday held the premiere of its feature-length documentary "Sexual Violence and the Triumph of Justice" at the Centre for Cultural Decontamination in Belgrade, Serbia. The event was attended by some 60 guests, among whom were Serbian government authorities, Embassy and NGO representatives as well as journalists.
The documentary depicts the Tribunal's historic role in the prosecution and adjudication of wartime sexual violence. The documentary includes interviews with former and current senior staff members of the ICTY, as well as testimonies from witnesses and survivors of sexual violence, who bravely gave evidence at trials.
Attending the premiere, Marijana Toma, historian and Humanitarian Law Centre representative, said: "During the armed conflicts in the former Yugoslavia, rape and sexual violence were widely used as weapons of war. These crimes destroyed the dignity of the victims and inflicted permanent suffering upon them. Therefore it is very important that crimes of sexual violence have been addressed by the Tribunal and that such a level of attention has been paid to them. We should never forget the courage of the victims, both men and women, who found the strength to testify before the ICTY and thereby ensure that those responsible were made to face the truth about their terrible crimes."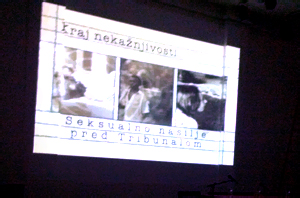 The screening was followed by a round table discussion. The panel was composed of Nerma Jelačić, Head of ICTY Outreach Programme; Nataša Kandić, Director of the Humanitarian Law Centre; Judge Snežana Nikolić Garotić from the War Crimes Department of Belgrade's Higher Court; Miloš Urošević and Marija Perković, NGO Women in Black activists. The panelists spoke about the issues pertaining to the prosecution and adjudication of sexual violence in war crimes cases before Serbian courts, including the challenges, gaps and efforts in obtaining justice and redress for survivors of wartime sexual violence in Serbia. They also discussed the rights of victims and the obligations of states in ensuring accountability for crimes of wartime sexual violence.
Available in English and Bosnian/Croatian/Serbian (BCS), the documentary will be distributed to victim organisations, local schools, and partner NGOs in the region, with a broadcast on main TV stations planned for this year.
The production of this documentary forms part of the Tribunal's efforts to raise awareness and understanding of the crimes committed during the conflicts in the former Yugoslavia, and its achievements in punishing those responsible and setting a legal precedent internationally.
***
The Tribunal's Outreach Programme
*****
International Criminal Tribunal for the former Yugoslavia
For more information, please contact our Media Office in The Hague
Tel.: +31-70-512-8752; 512-5343; 512-5356 - Email: press [at] icty.org ()
Follow ICTY on Twitter and Youtube