Exclusively for the use of the media. Not an official document)

The Hague, 2 March 2012
VE/CS/PR1484e
Outreach Programme documentary on sexual violence premieres in Zagreb
The Tribunal's Outreach Programme today held the premiere of its feature-length documentary "Sexual Violence and the Triumph of Justice" in at the Cinestar at Branimir Centre in Zagreb, Croatia. The event was attended by some 80 guests, among whom were Croatian government authorities, members of academia, Embassy and NGO representatives as well as journalists.
The documentary depicts the Tribunal's historic role in the prosecution and adjudication of wartime sexual violence. The documentary includes interviews with former and current senior staff members of the ICTY, as well as testimonies from witnesses and survivors of sexual violence, who bravely gave evidence at trials.
Attending the premiere, Head of Youth Initiative in Croatia, Mario Mažić said: "The documentary shows the pioneering efforts of as well as the challenges the Tribunals dealt with in bringing to account those most responsible for crimes committed against the most vulnerable which set an example for local judiciaries in the countries of the former Yugoslavia and beyond."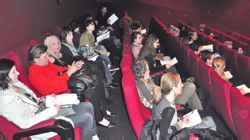 The screening was followed by a round table discussion. The panel was composed of Documenta Trial Monitor Milena Čalić-Jelić, NGO B.A.B.E Director Sanja Sarnavka, Ana Ergović Kuzmanović from Zagreb County Court Department for Witness and Victim Support, Marija Slišković from Women in Homeland War and Marijana Senjak with extensive former experience in the Association and Centre for Women Therapy Medica in Zenica, BiH. The panelists spoke about the issues pertaining to the prosecution and adjudication of sexual violence in war crimes cases before the Croatian courts, including the challenges of securing the testimony of witnesses and guaranteeing their protection.
Available in English and Bosnian/Croatian/Serbian (BCS), the documentary will be distributed to victim organisations, local schools, and partner NGOs in the region, with a broadcast on main TV stations planned for 2012.
The production of this documentary forms part of the Tribunal's efforts to raise awareness and understanding of the crimes committed during the conflicts in the former Yugoslavia, and its achievements in punishing those responsible and setting a legal precedent internationally.
 
***
The Tribunal's Outreach Programme
 
***
The trailer of the documentary and footage of the launch is available on the ICTY YouTube channel

*****
International Criminal Tribunal for the former Yugoslavia
For more information, please contact our Media Office in The Hague
Tel.: +31-70-512-8752; 512-5343; 512-5356 - Email: press [at] icty.org ()
Follow ICTY on Twitter and Youtube