PRESIDENT
PRESS Release
(Exclusively for the use of the media. Not an official document)
The Hague, 5 June 2014
CS/PR1603e
President Meron addresses the UN Security Council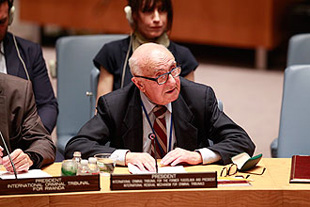 The Tribunal's President, Judge Theodor Meron, today addressed the United Nations Security Council on the progress of the ICTY towards the completion of its mandate.
The President reported on the status of the Tribunal's nine remaining cases. With regard to the ongoing trials, the President said: "Three of them—the trials of the late-arrested accused, Messrs. Hadžić, Karadžić, and Mladić—are continuing in line with past forecasts for judgement delivery, although all three trials are expected to continue past 31 December 2014, as I have previously informed this Council." He also noted that the fourth case currently at trial stage of proceedings—that of Vojislav Šešelj—was a case with special challenges.
President Meron informed the Council that, since his last report, two appeals judgements had been handed down, and that by the end of the year two more were expected. The President reiterated that, despite the Tribunal's continuing efforts, it was currently anticipated that the Tribunal will not complete the appeals in the remaining three appeal cases by 31 December 2014, and added that one of these appeal cases had experienced a setback in its projected timeline.
President Meron also noted that the Tribunal continued to downsize its operations and move towards eventually closing its doors. He highlighted the factors that posedchallenges when trying tomaintainpreviously forecast judgement delivery dates, but also assured the Council "that the committed Judges and staff of the Tribunal are making every effort to ensure that the Tribunal's nine remaining cases are brought to an expeditious conclusion while still respecting all necessary procedural safeguards."
Reflecting on the contrasting expectations held by various stakeholders regarding the Tribunal's work and mission, President Meron observed that the different hopes and ideals for international justice can often be in tension, if not outright conflict, with each other. However, he expressed his belief that, whatever different expectations and perceptions may exist, all would agree that "as a court, our mandate is to apply the law to the facts in a neutral manner, thereby ensuring the fair trials and appeals of those who have been accused of individual criminal responsibility for atrocities."
The President underscored that "the mere existence of the law cannot stop all conflict or all brutality … but it is through the law … and through our respect for the rule of law that our shared values are expressed and our moral imperatives articulated … that we affirm our own expectations about the kind of world in which we wish to live."
In conclusion, the President thanked the members of the Security Council for their continuing support and commitment:  "For the protection of men, women, and children, and for the preservation of our common values, the commitments made by this Council more than two decades ago, and renewed in 2010 and again this very year, cannot be forsaken. It is because these commitments cannot be forsaken that the Mechanism was created, that the ICTY is diligently and carefully completing its final few cases before it closes—and that the successful conclusion of the outstanding work entrusted to both institutions remains so tremendously important."
*****
President Meron's address

 ICTY Completion Strategy Report