(Exclusively for the use of the media. Not an official document)
The Hague, 28 January 2013
VE/CS/PR1543e
President Meron delivered speech at the European Court of Human Rights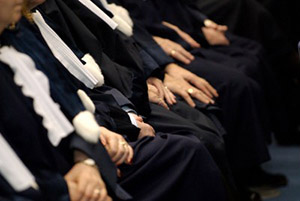 © Council of Europe Credits
On 25 January 2013, President Meron delivered a keynote speech at the European Court of Human Rights (ECHR) in Strasbourg, France, at a formal ceremony to mark the opening of the Court's judicial year.
The event, which was opened by the President of the ECHR, Judge Dean Spielmann, and the Minister of Justice of France, Madame Christiane Taubira, took place in the presence of Judges of the ECHR as well as Judges of the Constitutional and Supreme Courts of member States of the Council of Europe and other leading judicial and national figures.
President Meron's speech addressed human rights standards in the jurisprudence of international courts and tribunals. The President spoke about the relationship between human rights and international humanitarian law. He noted in particular the influential role played by the ECHR's jurisprudence concerning principles of fairness and due process and highlighted some of the Tribunal's contributions to human rights law.
Acknowledging the Judges of international and national courts in attendance, the President emphasised the vital, if varied, role that different courts play in protecting human rights.
"[T]ogether (…) we are contributing to the creation of a world in which human dignity and human rights are respected without normative gaps. And it is shoulder to shoulder, if not perfectly in step, that we (…) are playing our part in bringing about a world in which accountability will be the rule, and not the exception", said the President.
The ECHR is an international court which rules on individual or State applications alleging violations of rights set forth in the European Convention on Human Rights. Forty-seven member States of the Council of Europe have ratified the European Convention on Human Rights.
****
The Spokesperson for Registry and Chambers, Magdalena Spalińska, can be reached on +31 (0)6 5127 1242 or +31(0)70 512 5066 and spalinska [at] un.org
For further information please call the Media Office at +31 (70) 512-8752 or -5343 or -5356.
 
*****
International Criminal Tribunal for the former Yugoslavia
For more information, please contact our Media Office in The Hague
Tel.: +31-70-512-8752; 512-5343; 512-5356 - Email: press [at] icty.org
Follow ICTY on Facebook, Twitter and Youtube