PROSECUTION
PRESS RELEASE
(Exclusively for the use of the media. Not an official document.)
The Hague, 30 September 2014
CS/PR1609e
Prosecutor Serge Brammertz Met with Representatives of Victims Associations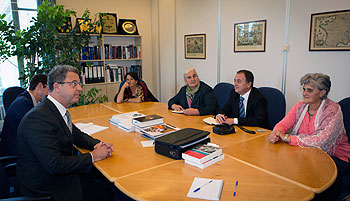 Prosecutor Serge Brammertz met today with the representatives of victims' associations attending the closing arguments in the Radovan Karadžić case: Murat Tahirović, President of the Association of Victims and Witnesses of Genocide, and Munira Subašić, Kada Hotić and Zumra Šehomerović, of the Movement of Mothers of Srebrenica and Žepa Enclaves. They discussed with the Prosecutor the closing arguments and cooperation in the remaining ICTY cases.
Prosecutor Serge Brammertz thanked the witnesses who testified in the Radovan Karadžić trial. "While justice is delivered here in the courtroom, the fight for justice begins with every person who decides to step forward, become a witness and speak the truth. My Office is grateful to all witnesses who participated in the trial and who contributed to ensuring justice and accountability for these horrific crimes." The Prosecutor also acknowledged the lasting impact of crimes committed in the former Yugoslavia. "Today, there are thousands of victims throughout the region who still suffer physically and emotionally from the events of 20 years ago. We hope that our work alleviates their suffering in some measure."
Expressing concern that denial of the Srebrenica Genocide continues today, Prosecutor Brammertz said: "Genocide denial causes immense suffering to the victims and their families, inhibits reconciliation and reinforces communal divisions. Every victim deserves acknowledgement of the crimes committed against them and the pain they have endured."