| | |
| --- | --- |
| Press Release | |
| (Exclusively for the use of the media. Not an official document) |   |
.

The Hague, 31 May 2011
OTP/1415e

Ratko Mladić in Tribunal's Custody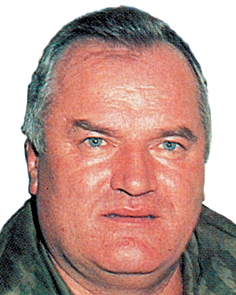 Ratko Mladić
Ratko Mladić was today transferred to the Tribunal's custody, after having been at large for almost 16 years. Mladić, who was arrested by Serbian authorities on Thursday, 26 May 2011, has been admitted to the UN Detention Unit in The Hague.
The UN Detention Unit where Mladić is detained meets the highest international standards for the treatment of detainees. It is managed in a manner respecting the detainees' dignity and rights, and providing all the necessary conditions for the preparation of their defence. Following a full medical examination by the Detention Unit's medical staff, Mladić's health will be continuously monitored and any treatment required will be provided. His initial appearance will be announced in due course.
Ratko Mladić, former Commander of the Bosnian Serb Army (VRS) Main Staff, stands accused of genocide and a multitude of crimes committed against Bosnian Muslim, Bosnian Croat and other non-Serb civilians in Bosnia and Herzegovina from May 1992 to late 1995.
The indictment alleges that forces under Mladić's command committed genocide, amongst other crimes, when they summarily executed over 7,000 Bosnian Muslim men and boys in Srebrenica in July 1995.  
Mladić is also charged with genocide for crimes committed in eastern and north western Bosnia and Herzegovina. The indictment lists over 70 incidents of murder in 20 municipalities. The indictment also alleges that these forces tortured, mistreated and physically, psychologically and sexually abused civilians confined in 58 detention facilities in 22 municipalities. Mladić is also facing charges for the shelling and sniping of Sarajevo, during which thousands of civilians were killed and wounded.
According to the indictment, Mladić committed these and other crimes as part of a joint criminal enterprise whose objective was to eliminate or permanently remove Bosnian Muslim, Bosnian Croat and other non-Serb inhabitants from large areas of Bosnia and Herzegovina.  
Other members of the alleged joint criminal enterprise indicted by the Tribunal include: Radovan Karadžić, former President of the self-proclaimed Republika Srpska and head of the Serbian Democratic Party and Supreme Commander of the Bosnian Serb Army (VRS); Momčilo Krajišnik, former President of the Bosnian Serb Assembly; Biljana Plavšić, former Bosnian Serb Presidency Member; and Bosnian Serb Army generals Stanislav Galić and Radislav Krstić.
***
The accreditation procedure for Mladić's Initial Appearance is not yet open. Further details will be provided in a separate Press Advisory announcing the date and time of the Initial Appearance.

*****
International Criminal Tribunal for the former Yugoslavia
For more information, please contact our Media Office in The Hague
Tel.: +31-70-512-8752; 512-5343; 512-5356 Fax: +31-70-512-5355 - Email: press [at] icty.org
Follow ICTY on Twitter and Youtube