(Exclusively for the use of the media. Not an official document)
The Hague, 24 May 2012

VE/CS/PR1504e

Start of hearing of Prosecution's first witness in the Mladić trial scheduled for 25 June 2012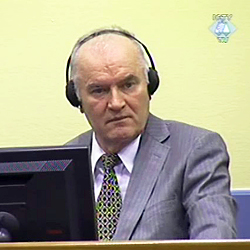 Ratko Mladić
Today, Trial Chamber I scheduled the start of hearing of the Prosecution's first witness in the case of Ratko Mladić for Monday, 25 June 2012.
The start of presentation of evidence was originally scheduled for Tuesday, 29 May. In light of the Prosecution's disclosure failure, the Trial Chamber found that a postponement of the hearing of the Prosecution's first witness was justified, but did not consider that the Defence's request for a postponement of six months should be granted.
In rendering its decision, the Chamber found that "[t]he disclosure failures (…) have an impact on the Defence's preparations for trial. Defence preparations to date have not been in vain but may need to be supplemented by additional searches and further reviews. All of this requires additional time. On the other hand, the effect of the disclosure failures is sometimes very small or even non-existent."
In determining the length of the adjournment to be granted, the Chamber considered the work required to be performed by counsel and their support staff due to the disclosure failures of the Prosecution.
The Chamber considered that preparing a Defence is not exclusively done during the pre-trial stage: "Defence team members will continue to support counsel in the weeks and months following the start of the trial, including with the analysis of evidentiary material the Prosecution will present in relation to specific witnesses."
The Prosecution has been instructed to file a new witness order for its first witnesses by 30 May 2012. 
  ****
*****
International Criminal Tribunal for the former Yugoslavia
For more information, please contact our Media Office in The Hague
Tel.: +31-70-512-8752; 512-5343; 512-5356 - Email: press [at] icty.org ()
Follow ICTY on Twitter and Youtube