| | |
| --- | --- |
| Press Release | |
| (Exclusively for the use of the media. Not an official document) |   |
The Hague, 13 May 2010
OK/OTP/1349e


Statement Of The Office Of The Prosecutor
In Relation To The Proposed Amended Indictment Against Ratko Mladić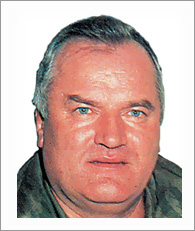 Ratko Mladić
On Monday, the Office of the Prosecutor filed a motion to amend the indictment against Ratko Mladić, former Commander of the Main Staff of the Bosnian Serb Army (VRS). The proposed amended indictment charges Ratko Mladić with 11 counts of genocide, crimes against humanity and violations of the laws and customs of war in relation to the ethnic cleansing in Bosnia and Herzegovina from 1992-1995, the terror campaign against civilians during the siege of Sarajevo from 1992-1995, the taking of UN personnel as hostages in May and June 1995, and the genocide in Srebrenica in July 1995.
As set out in the Indictment, Ratko Mladić together with Radovan Karadžić was a key member of an overarching joint criminal enterprise the objective of which was the permanent removal of Bosnian Muslims and Croats from the territory in Bosnia and Hezegovina that Bosnian Serbs claimed for themselves. To achieve this aim, Ratko Mladić, acted in concert with others to commit crimes in different locations and at different times as alleged in the indictment.
As the most senior officer of the Bosnian Serb Army during the war, Ratko Mladić was the superior of members of the VRS and other Serb forces integrated into or subordinated to the VRS. As such, he had effective control over the forces who participated in the crimes alleged. Ratko Mladić is charged with planning, instigating and ordering each of the crimes.
Eighteen years have passed since the first crimes listed in this indictment were committed.  The first indictment against him was confirmed on 25 July 1995, yet he remains a fugitive to this date.
The Prosecutor of the ICTY urges Serbia and the international community to take all necessary measures to secure his arrest.
His arrest is long overdue.

*****
International Criminal Tribunal for the former Yugoslavia
For more information, please contact our Media Office in The Hague
Tel.: +31-70-512-8752; 512-5343; 512-5356 Fax: +31-70-512-5355 - Email: press [at] icty.org