Last week, on 12 October 2017, the Tribunal and the City of Sarajevo held a coordination meeting for potential donors, partners and supporters of the ICTY Information Centre that is currently being established in Sarajevo, Bosnia and Herzegovina (BiH). The meeting - held at the restored City Hall of Sarajevo, the future home of the Information Centre - was a pivotal step towards setting up and opening the Centre.
The guests were welcomed by Sarajevo Mayor Mr Abdulah Skaka, who expressed his and the City Administration's full support for the establishment of the Information Centre. Judge Fausto Pocar, speaking on behalf of the ICTY, emphasised the importance of having an Information Centre in Sarajevo, which would provide the people of BiH with easy access to the Tribunal's archives. He stressed that these archives contain a rich amount of material about the recent, violent past of the region, and can therefore serve as a tool contributing to reconciliation.
The previous Mayor of Sarajevo, Professor Ivo Komšić, also took the floor to outline the steps taken thus far to enable the establishment of the Information Centre at the City Hall, followed by a detailed presentation by Tribunal representatives of the ICTY's archival content, the envisioned concept, structure, activities and budget of the Information Centre. During a Q&A session, several representatives of BiH State institutions, the diplomatic corps and international organisations intervened to provide positive feedback and express their willingness to support the establishment of the Information Centre.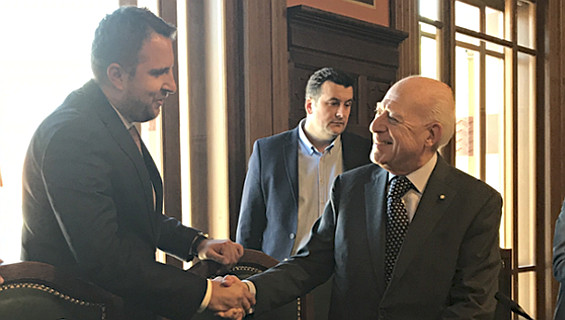 In 2010, the Tribunal was tasked by the United Nations Security Council (Resolution 1966) to facilitate the establishment of information and documentation centres in the countries of the former Yugoslavia. These centres will provide digital access to electronic copies of all public ICTY records and archival material, and conduct various outreach activities with the aim of advancing transitional justice processes. The ICTY Information Centre in Sarajevo will be the first of its kind to open in the region and the Tribunal hopes that such centres will also be opened in Croatia, Serbia, and elsewhere in BiH.