| | |
| --- | --- |
| Press Release | |
| (Exclusively for the use of the media. Not an official document) |   |
The Hague, 15 March 2010
VE/MOW/1347e

Zuhdija Tabaković Pleads Guilty, Sentenced to Three Months' Imprisonment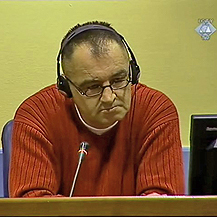 Zuhdija Tabaković
Zuhdija Tabaković today pleaded guilty to three of the six counts of contempt which he had been charged with after he agreed to provide a false statement at the trial of Milan and Sredoje Lukić.
Trial Chamber II accepted the Plea Agreement reached between the Prosecution and the Defence and sentenced Tabaković to three months' imprisonment.
Tabaković pleaded guilty to counts one, three and four of the indictment. He confessed to having agreed to sign and testify to a false statement in favour of Milan Lukic who was last year sentenced by Trial Chamber III to life imprisonment for war crimes committed in Visegrad, eastern Bosnia and Herzegovina. Tabakovic received 1,000 euros in exchange for this statement.
He also admitted that he found two other men who were willing to put their names to and sign two further pre-prepared statements in exchange for the same amount.
As a result of that plea, and in accordance with Rule 62ter of the Tribunal's Rules of Procedure and Evidence, the Trial Chamber dismissed the remaining charges.
Tabakovic was transferred to the Tribunal on 18 December 2009. He pleaded not guilty to all counts at his initial appearance on 22 December 2009.
The joint motion by the Prosecutor and the Defence to the Trial Chamber to consider a plea agreement was filed confidentially on 12 March 2010.
Credit will be given for time spent in custody and Tabaković will be eligible for release later this week.
The Trial Chamber's written decision will be issued shortly and made available on the Tribunal's website.

* * *
Full text of the indictment can be found at
http://www.icty.org/x/cases/contempt_tabakovic/ind/en/091222.pdf
 Courtroom proceedings can be followed on the Tribunal's website at www.icty.org.
*****
International Criminal Tribunal for the former Yugoslavia
For more information, please contact our Media Office in The Hague
Tel.: +31-70-512-8752; 512-5343; 512-5356 Fax: +31-70-512-5355 - Email: press [at] icty.org