| | |
| --- | --- |
| Press Release | |
| (Exclusively for the use of the media. Not an official document) |   |
The Hague, 24 June 2009
NJ/MOW/PR1322e
Trial Chamber Conducts Site Visit to Zagreb, Sarajevo and Srebrenica  in Momčilo Perišić Case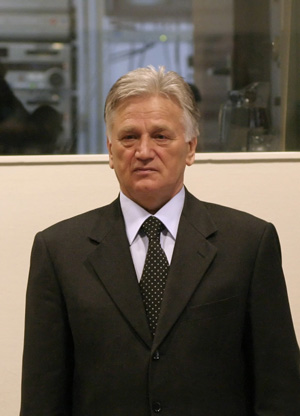 Momčilo Perišić
The Trial Chamber in the case of Momčilo Perišić, former Chief of the General Staff of the Yugoslav Army (VJ), on Sunday 21 June 2009 began a seven-day site visit which will take them to Zagreb, Sarajevo and Srebrenica.
The visiting delegation consists of Judges Moloto (presiding), David and Picard from Trial Chamber I, as well as members of the Prosecution and Defence teams in the case and officials from the Tribunal's Registry.
The Trial Chamber decided to conduct the site visit on its own accord. The Trial Chamber considered that it would be assisted to visit locations relevant to the case "in order to gain a better understanding of the facts at issue".
Perišić is the most senior officer of the Yugoslav Army to go on trial for crimes committed during the wars in Bosnia and Herzegovina and Croatia. He is charged with crimes against humanity and war crimes including murder, inhumane acts and attacks on civilians committed between 1993 and 1995 in Sarajevo, Srebrenica and Zagreb.
    
The Indictment alleges that Perišić provided significant personnel, material and logistical assistance to the Army of Republika Srpska (VRS) in Bosnia and Herzegovina and the Army of Serbian Krajina (SVK) in Croatia. According to the Indictment, the provision and payment of VJ officers serving in the VRS and the SVK was done secretly to hide the involvement of the government of the Federal Republic of Yugoslavia in the conflicts in Croatia and Bosnia.
Perišić is charged with aiding and abetting the planning, preparation, or execution of a military campaign of shelling and sniping in civilian areas of Sarajevo between August 1993 and November 1995, which resulted in the killing and wounding of thousands of civilians. He is also charged with the shelling of civilian areas in the city of Zagreb in May 1995, resulting in the killing and wounding of a number of civilians.
He is further accused of aiding and abetting the crimes of extermination, murder and persecutions in Srebrenica between July and November 1995, where his subordinates serving in the VRS, including General Ratko Mladić, captured and executed several thousand Bosnian Muslim men and subsequently engaged in a comprehensive effort to conceal the killings by reburying bodies exhumed from the original mass graves.
The Indictment against Perišić was confirmed on 24 February 2005 and made public on 7 March 2005, when the accused was transferred into the Tribunal's custody. The Prosecution filed the Second Amended Indictment on 5 February 2008. The trial began on 2 October 2008.
*****
Members of the press are advised that there will be
no media opportunities during the site visit.
Media agencies with questions concerning the visit are requested to contact:
ICTY Spokesperson Nerma Jelačić at +31-65-357-8006
*****
International Criminal Tribunal for the former Yugoslavia
For more information, please contact our Media Office in The Hague
Tel.: +31-70-512-5343; 512-5356 Fax: +31-70-512-5355 - Email: press [at] icty.org ()