| | |
| --- | --- |
| Press Release | |
| (Exclusively for the use of the media. Not an official document) |   |
The Hague, 16 November 2011
VE/MOW/1462e

Trial Chamber orders medical examination of Ratko Mladić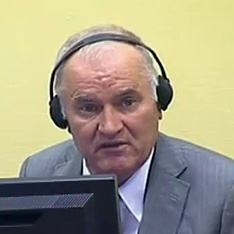 Ratko Mladić
The Trial Chamber today ordered the Registry to appoint a medical expert in order to conduct a complete medical examination of Ratko Mladić. The report is to be submitted no later than Tuesday, 6 December 2011, in time for the next Status Conference in the case.
The Chamber found that "[a] full report on the Accused's health will assist the Chamber (…) to better assess whether and to what extent his health condition could affect the preparation of the upcoming trial. Additionally, the examination will allow the Chamber to understand the actual current condition of the Accused's health, thereby permitting it to better evaluate and decide on any potential future motions or requests made directly or in relation to this topic."
The Chamber indicated that to date neither party has requested a medical examination of the Accused to be conducted, although his health has been raised on several occasions in court and in various filings. In its earlier Decision on the Prosecution's motion to sever the indictment, filed on 13 October 2011, the Chamber considered the parties' submissions relating to the Accused's health to be both "speculative and unsubstantiated." The Chamber stressed that until such claims were substantiated by medical documentation, "it could not base its findings on media reports or other such sources".
At the last Status Conference, held on Thursday 10 November 2011, Presiding Judge Orie reminded Mladić's Defence team that although, with the consent of the Accused, they were at liberty to share what information they chose to with the public, it was important "not to start interpreting medical information" and that "no one, the last being the public, would be served by either downsizing or upgrading matters which we are both not experts in."
The Chamber ordered that the medical expert provide an assessment of Mladić's overall current health condition as well as an evaluation of his medical history, including the background to and current status of any health condition predating Mladić's arrival at the Detention Unit. The medical expert is to assess whether and to what extent his current overall health condition is related to his medical history.
The Chamber ordered the medical expert report in accordance with the Tribunal's Rules of Procedure and Evidence.
The next Status Conference is scheduled to be held on Thursday, 8 December 2011, at 16:00 in Courtroom I.
 
* * *
Order for a medical examination of the Accused pursuant to Rule 74bis

*****
International Criminal Tribunal for the former Yugoslavia
For more information, please contact our Media Office in The Hague
Tel.: +31-70-512-8752; 512-5343; 512-5356 Fax: +31-70-512-5355 - Email: press [at] icty.org ()
Follow ICTY on Twitter and Youtube