TRIBUNAL
PRESS RELEASE
(Exclusively for the use of the media. Not an official document)
The Hague, 16 July 2013
CS/PR1576e
Tribunal's 20th Anniversary exhibition opens in Sarajevo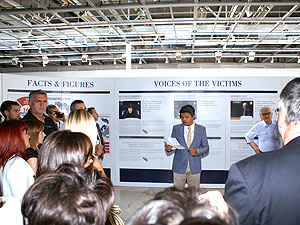 The Tribunal today opened an exhibition marking significant milestones from the two decades of its existence at the Historical Museum of Bosnia and Herzegovina in Sarajevo. The opening reception attracted over 60 guests, including experts on transitional justice issues, academics, representatives from civil society, the national judiciary, and the diplomatic corps.
The exhibition, titled '20 Years of International Justice,' will be on display until 31 August 2013. It highlights the Tribunal's role in ending impunity for those who committed serious crimes during the conflict in the former Yugoslavia, its pioneering contribution in the development of international criminal justice, and its legacy for the communities of the former Yugoslavia. 
Commenting on the importance of the exhibition, ICTY President Judge Theodor Meron said: "As the Tribunal draws to a close, it is more important than ever that information about its work be made available to communities of the former Yugoslavia. The exhibition reaffirms that commitment to accessibility and accountability in the region, where the Tribunal's legacy is of greatest importance."
The Museum's director Elma Hašimbegović said: "The HistoricalMuseum is honoured to present the exhibition. It will give domestic and international visitors the opportunity to familiarise themselves with the work of the Tribunal and its most important cases, which are intrinsically linked with the recent history of Bosnia and Herzegovina."
The exhibition, which was previously on display in the City Hall of The Hague, is part of the Outreach Programme's ongoing efforts to raise awareness and understanding of the Tribunal's historic role in the prosecution and adjudication of wartime crimes committed during the conflicts in the former Yugoslavia.
---
For further information please contact Nerma Jelačić, Head of Communications, at +31 (0) 6 5357 8006 or jelacic [at] un.org