(Exclusively for the use of the media. Not an official document)
The Hague, 5 February 2013
VE/CS/PR1545e
Tribunal's Outreach Programme launches second phase of its youth education project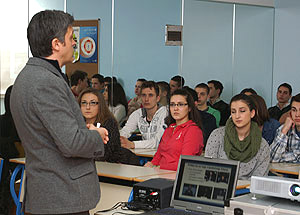 The Tribunal's Outreach Programme today launched its second round of high school and university presentations in the former Yugoslavia. By re-engaging with students, the project will further the ICTY's efforts to reach out to young people across the region and stimulate their interest in the Tribunal's mandate and wider issues of transitional justice and post-conflict reconstruction.
The first presentation was held for 40 students at the Second Gymnasium in Sarajevo, Bosnia and Herzegovina (BiH). High school presentations will continue to be held in Bosnia and Herzegovina and across the region throughout the school year. A regional series of university presentations is planned to begin this March.
"There is clearly a need for more information and debate about international humanitarian law and the role of the ICTY in the process of dealing with the past. Future generations must recognise the facts about past events as this is the only guarantee that such negative experiences will never happen again. This can only be achieved if we openly speak about crimes committed on all sides and show consideration for the sufferings of others," said Professor Senad Alić.
The presentations will introduce the students to the Tribunal's achievements and its contribution to the establishment of facts and development of jurisprudence concerning war crimes committed in their countries. Through direct engagement with young people, the aim of the presentations is to foster critical thinking on issues of criminal law and transitional justice that will shape their region for many years to come.
"The Tribunal considers youth engagement to be of immense importance for the success of the Tribunal's mandate in the region. The new generations will shape the future of the region and decide if it will take the road towards reconciliation  and create an environment more conducive to lasting peace," said the Tribunal's Registrar, John Hocking.
The first phase of the Tribunal's youth outreach project was held from December 2011 to October 2012, engaging with over 2,000 high school and 1,500 university students from BiH, Croatia, Serbia, Kosovo, Montenegro and the former Yugoslav Republic of Macedonia. The second phase of the project, which kick-started in BiH, will build upon the previous achievements and lessons learnt, as well as address the existing needs identified in inaugural presentations in order to strengthen their impact.
As the ICTY moves towards the completion of its mandate, the Outreach Programme is intensifying its efforts to increase the access of local communities to information on the Tribunal's achievements. In doing so, the Outreach Programme seeks to promote a greater understanding of the Tribunal's work and to cement its legacy throughout the region of the former Yugoslavia.
The Outreach Programme benefits from the continuous support of the European Union and its work with young people is generously supported by the Finnish government.
****
*****
International Criminal Tribunal for the former Yugoslavia
For more information, please contact our Media Office in The Hague
Tel.: +31-70-512-8752; 512-5343; 512-5356 - Email: press [at] icty.org
Follow ICTY on Facebook, Twitter and Youtube