Tribunal
PRESS Release
(Exclusively for the use of the media. Not an official document)
The Hague, 6 March 2014
CS/MS/1597e
Tribunal's Outreach Programme launches third round of its Youth Project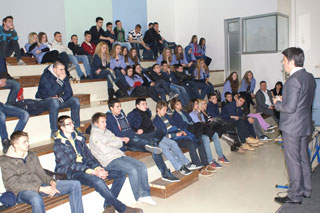 The Outreach Programme of the International Criminal Tribunal for the former Yugoslavia today launched its third round of high school and university presentations in the countries of the former Yugoslavia. The project is part of the ICTY's continued efforts to reach out to young generations across the region and stimulate their interest in the Tribunal's mandate and wider issues of transitional justice and post-conflict recovery.
More than 60 students of the Fifth Gymnasium in Sarajevo, Bosnia and Herzegovina (BiH) attended the launch presentation of this phase of the programme. Students were presented with information regarding the Prosecution of individuals accused of committing crimes during the siege of Sarajevo and encouraged to discuss the importance of the rule of law in dealing with the past.
 "We are very pleased with the cooperation initiated between our school and the Tribunal's Outreach programme. Numerous questions asked by our students and the genuine interest they have shown confirm that the presentation was especially well received. We would be happy to continue our cooperation in the future," said Islam Zulović, Deputy School Director/Professor in Democracy and Human Rights.
Throughout this academic year the Outreach Programme will visit a number of high-schools across the former Yugoslavia. A separate pilot event in Bosnia and Herzegovina will build the capacity of teachers there to introduce elements of these presentations in their work. A regional series of university presentations is planned to begin in the spring.
The aim of Outreach Programme is to foster critical thinking on issues of criminal law and transitional justice throughout the former Yugoslavia, and working with young people is a crucial part of this effort.
"This is one of the most gratifying projects implemented by Outreach. We have seen great interest among the young generation in the work of the Tribunal, especially its achievements in bringing to light facts about the crimes and holding high-lever individuals accountable. Building respect for the rule of law among the young generation is crucial for the fulfilment of the Tribunals mandate of contributing to peace and security in the region," said ICTY's Deputy Registrar, Kate Mackintosh.
As many as 6,000 students from across the region have benefited from the Youth Outreach Programme which was launched in December 2011.
The Outreach Programme benefits from the support of the European Union and its work with the youth of the former Yugoslavia is generously supported by the Finnish government.
---
For more information about this or any other Outreach project please contact Nerma Jelacic, Head of Communications, at jelacic [at] un.org, or +31 70 5125580