| | |
| --- | --- |
| Press Release | |
| (Exclusively for the use of the media. Not an official document) |   |
The Hague, 28 May 2009
NJ/MOW/PR1318e
Tribunal's Principals Address Diplomatic Community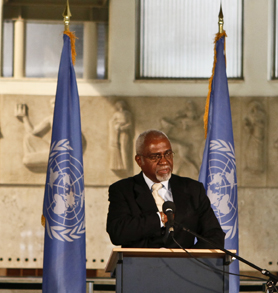 Judge Patrick Robinson, ICTY President
The Tribunal's three principals, President Patrick Robinson, Prosecutor Serge Brammertz and Registrar John Hocking today held a briefing for the diplomatic community in The Hague.
More than 50 Embassy representatives and officials from international organisations attended the meeting, which focused on the latest developments at the ICTY and progress made towards the implementation of its Completion Strategy.
The President, Prosecutor and Registrar also addressed the outstanding issues in the successful completion of the Tribunal's mandate, including the arrest of the two remaining fugitives, progress with respect to completion of trials and appeals as well as cooperation with states and ongoing efforts to strengthen the capacity of the judiciaries in the region as a crucial aspect of the Tribunal's legacy.
Diplomatic briefings are held bi-annually and allow the Tribunal's leaders to update the members of the corps diplomatique on the activities of the organisation.
*****
International Criminal Tribunal for the former Yugoslavia
For more information, please contact our Media Office in The Hague
Tel.: +31-70-512-5343; 512-5356 Fax: +31-70-512-5355 - Email: press [at] icty.org ()