REGISTRY
PRESS RELEASE
(Exclusively for the use of the media. Not an official document)
The Hague, 14 June 2013
VE/CS/PR1572e
Tribunal completes round of MICT workshops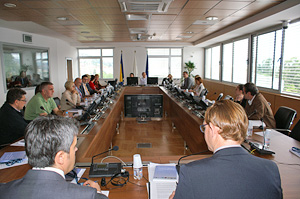 Legal professionals attend MICT workshop at the High Judicial
and Prosecutorial Council in Sarajevo
Ahead of the launch of the Hague branch of the Mechanism for International Criminal Tribunals (MICT) on 1 July 2013, the Tribunal hosted a number of workshops in Belgrade and Sarajevo to explain the new organisation's mandate to over 70 legal professionals and NGO partners.
In line with the Tribunal's longstanding commitment to strengthening ties with the judicial community and civil society in the in former Yugoslavia, the workshops aimed to facilitate continued cooperation between legal practitioners, NGOs, the ICTY, and the Mechanism.
Commenting on the importance of the workshops, the Registrar of the ICTY and MICT John Hocking, said: "The Tribunal has developed effective working relationships with States across the former Yugoslavia. As we are nearing a successful completion of the ICTY mandate, we now look forward to building on those ties, working hand in hand with our partners as certain functions are transferred from the Tribunal to the Mechanism."  
The workshops covered the MICT's mandate, the completion strategy of the ICTY, and the Mechanism's role in that process. They provided an opportunity for Tribunal representatives and partners to discuss the implications of the transition to the MICT and the importance of sustaining mutual support and assistance.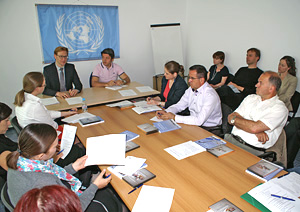 BiH Liaison Officer introduces work of MICT to NGO partners
The first workshop, held on Monday at the Appeals Court in Belgrade, was attended by 30 judges, prosecutors and defense counsels. The High Judicial and Prosecutorial Council in Sarajevo hosted a similar meeting for 20 legal professionals yesterday. Moreover, the Sarajevo and Belgrade liaison offices provided venue for a discussion with over 20 NGO partners. 
"The Mechanism's role in a number of areas such as in facilitating the access to protected witnesses and the Tribunal's archives are of great importance to us. They have the potential to significantly improve the prosecution of war crimes cases before domestic courts in Bosnia and Herzegovina and of contributing to the successful implementation of our strategy to complete these cases," said Judge Minka Kreho from the Court of Bosnia and Herzegovina.