| | |
| --- | --- |
| Press Release | |
| (Exclusively for the use of the media. Not an official document) |   |
The Hague, 05 October 2011
CT/MOW/1448e

Tribunal hosts a study visit for Judges and Prosecutors from Kosovo as part of the War Crimes Justice Project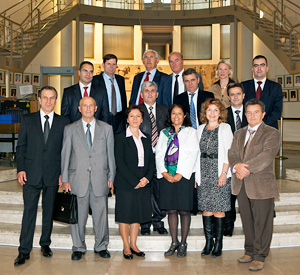 The visiting Judges and Prosecutors will hold peer-to-peer discussions with the Tribunal's Judges and officials from the Office of the Prosecutor
The Tribunal's Outreach Programme today welcomes a group of six judges and five prosecutors from Kosovo for a two-day study visit, as part of the Tribunal's ongoing efforts to strengthen cooperation and knowledge sharing with members of the judiciary in the former Yugoslavia.
Commenting on the visit, Judge Fausto Pocar said: "It is with great pleasure that I welcome our colleagues from Kosovo to the Tribunal to exchange views and expertise on the adjudication of war crimes cases.  I am confident that our interaction will result in a greater understanding of the common challenges we face in carrying out our work and methods to overcome those challenges."
The visit has been organised as part of the EU-funded War Crimes Justice Project (WCJP), which is carried out by the OSCE Office for Democratic Institutions and Human Rights (ODIHR), in partnership with the ICTY, the UN Interregional Crime and Justice Research Institute (UNICRI), and OSCE field operations.
"The visit's programme was developed in close consultation with the practitioners and the Kosovo Judicial Institute to meet the needs of the participants. The ICTY adjusted the programme closely to their needs."commented Romana Schweiger, ODIHR Regional Coordinator of the WCJP.
The visiting Judges will hold peer-to-peer discussions with the Tribunal's Judges on a number of topics, including witness protection, judgment drafting, challenges in adjudicating war crimes, procedural tools to expedite war crimes proceedings and access to ICTY evidence and legal material.
The Kosovo State Prosecution and Special Prosecution representatives will meet with officials from the Tribunal's Office of the Prosecutor (OTP) to discuss similar legal and other relevant practical issues, such as the handling of sensitive witnesses during investigations and trials.The Kosovo Prosecution representatives will also be introduced to OTP evidence databases.
"The Kosovo Judicial Institute is proud to implement this training initiative with OSCE/ODIHR and the ICTY. The knowledge transfer and expertise sharing is timely and critical for our judges and prosecutors," stated Lavdim Krasniqi, Director of Kosovo Judicial Institute.
The Tribunal's Outreach Programme is one of the main tools for sharing the Tribunal's expertise with local judiciaries. As the ICTY moves towards the completion of its mandate, the Outreach Programme is intensifying its efforts to provide the communities of the former Yugoslavia with increased access to the Tribunal's work and to promote a greater understanding of its achievements.
The Outreach Programme benefits from the continuous support of the European Union.
* * *
More information about the Outreach Programme can be found on the Tribunal's website at the following link.
More information about the War Crimes Justice Project can be found at the following link.

*****
International Criminal Tribunal for the former Yugoslavia
For more information, please contact our Media Office in The Hague
Tel.: +31-70-512-8752; 512-5343; 512-5356 Fax: +31-70-512-5355 - Email: press [at] icty.org ()
Follow ICTY on Twitter and Youtube