| | |
| --- | --- |
| Press Release | |
| (Exclusively for the use of the media. Not an official document) |   |
The Hague, 12 February 2009
NJ/MOW/1303e

Tribunal Reviews Outreach and Capacity Building with Serbian Judiciary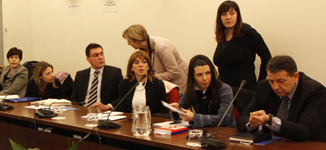 The Tribunal today hosted a group of Serbian judicial officials to review the best practices and experiences of the Tribunal's Outreach programme and its work in building the capacity of national courts to fairly handle war crimes cases.

Representatives of Serbian National Council for Cooperation with the ICTY, Office of the War Crimes Prosecutor, the Ministry of Foreign Affairs of the Republic of Serbia, the District Court of Belgrade and the Judicial Training Centre took part in the day-long seminar sponsored by the UN Development Programme.
The Tribunal pioneered and developed the most extensive and diverse Outreach programme of any international court. The Outreach programme, that marks its tenth anniversary this year, has led the Tribunal's capacity building work with national judiciaries in the states that emerged from the former Yugoslavia. The Tribunal has set the standard for other international courts in the transfer of skills, know-how, evidentiary material and cases to national authorities so they may continue the vital mission of ensuring justice and respect for the rule of law.
*****
More information about the Tribunal's Outreach programme can be found on the Tribunal's Website
at http://www.icty.org/sections/Outreach
*****
International Criminal Tribunal for the former Yugoslavia
For more information, please contact our Media Office in The Hague
Tel.: +31-70-512-5343; 512-5356 Fax: +31-70-512-5355 - Email: press [at] icty.org