| | |
| --- | --- |
| Press Release | |
| (Exclusively for the use of the media. Not an official document) |   |
The Hague, 23 October 2011
NJ/MOW/1454e


  Tribunal Statement on Death of Judge Antonio Cassese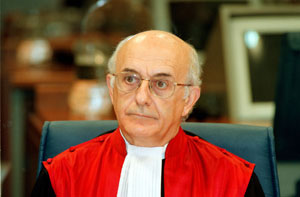 Judge Antonio Cassese

(Copyright: Robert Goddyn)
The Tribunal notes with deep regret the news of the death of Judge Antonio Cassese, of the Special Tribunal for Lebanon and a leading figure in the development of international humanitarian law.
Judge Cassese was the first president of the International Criminal Tribunal for the former Yugoslavia serving in this capacity from 1993 to 1997. In his judicial capacity he played a foundational role in elaborating the jurisdictional bases for the work of the Tribunal.  This was only one of the many roles he played in various international institutions dedicated to the fight against impunity and human rights.
His visionary leadership, distinguished passion and belief in international humanitarian law have ensured that many victims were able to see the crimes they endured addressed by international justice.
"I am deeply saddened by the news of Judge Cassese's death," said Judge Patrick Robinson, President of the ICTY. "He was one of the pioneers of international criminal justice and made a profound impact on the way crimes committed in modern conflicts are prosecuted. His death is a great loss for international criminal justice."


*****
International Criminal Tribunal for the former Yugoslavia
For more information, please contact our Media Office in The Hague
Tel.: +31-70-512-8752; 512-5343; 512-5356 Fax: +31-70-512-5355 - Email: press [at] icty.org ()
Follow ICTY on Twitter and Youtube